OneOdio is a brand that entered the headphone market a few years ago. Its budget headphones are aimed at users who want exceptional audio quality. In this case, we will examine one of the most popular models: the OneOdio Focus A10, also known simply as the OneOdio A10.
These are hybrid headphones that can be used with or without cables and have active noise cancellation. Their price is around 60 euros, which makes them a very attractive option for those who want good headphones for playing and listening to music. But are they really as good as they seem? We will tell you the truth below.
Review of OneOdio Focus A10 headphones in Spanish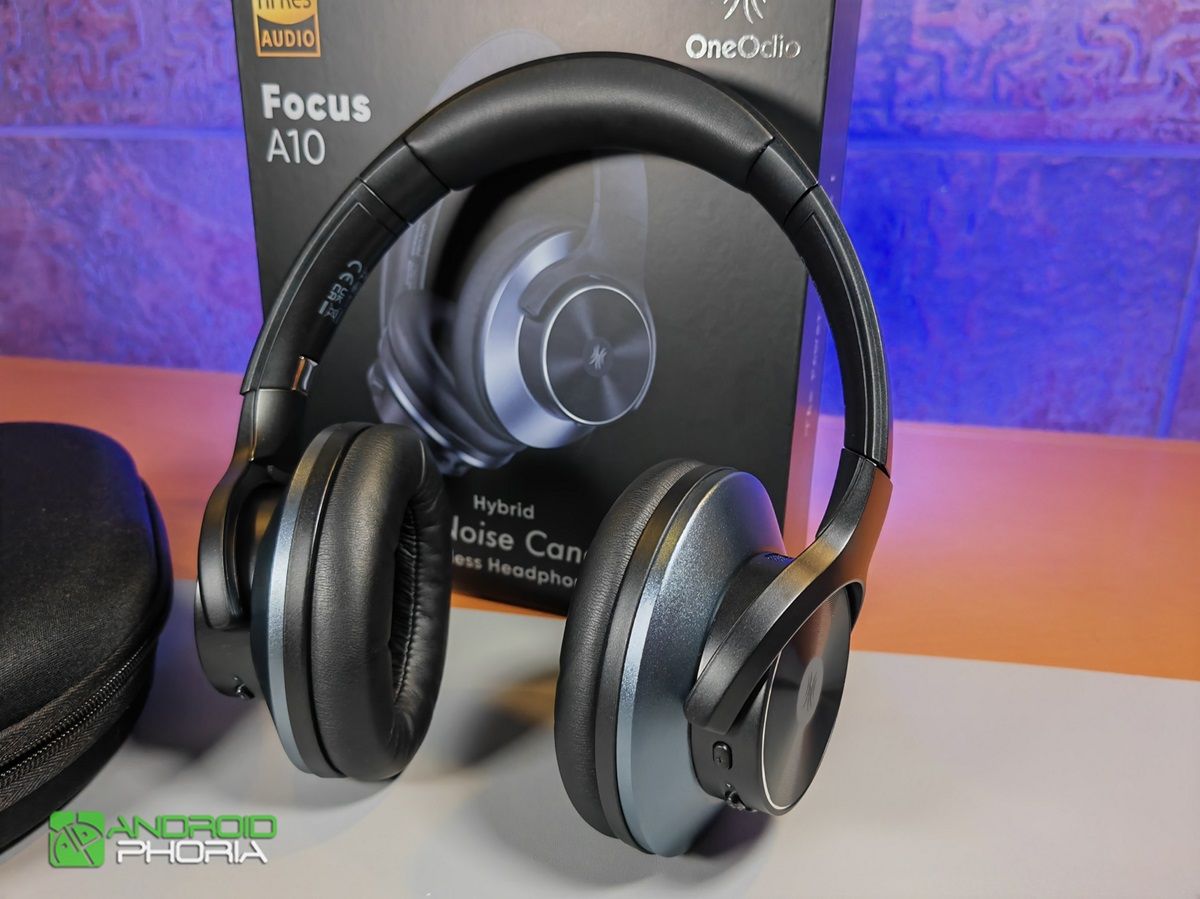 OneOdio Focus A10 are headphones with Bluetooth and 3.5 mm cable. You can use them wirelessly or connect to your device via cable for low latency. Its technical specifications are as follows:
Features
OneOdio Focus A10
Weight 295 grams. 40 mm speaker. Impedance 32 Ohms. Noise cancellation 35 dB. Response frequency 20 MHz – 40 KHz. Sensitivity 42 dB ± 3 dB. 3.5 mm stereo connections. Bluetooth 5.0 wireless connection with 10 meter range. 800 mAh battery with a range of up to 50 hours. Charging time 1.5 hours. Compatibility Any device with a Bluetooth or headphone jack: cell phones, consoles, PCs, guitars, pianos, etc. What's in the box OneOdio A10 headphones, EVA case, 3.5mm audio cable, USB-C charging cable and charging manual.
They have amazing build quality for their price.
We didn't expect headphones for around €60 to have such good manufacturing quality. The OneOdio Focus A10 feels solid and sturdy, without being too heavy, and doesn't seem to break easily. They have a foldable design with cups that fold inward for easy transport using the case included in the box.
Their earcups are thick and soft, which makes the headphones feel very comfortable in your ears. The head belt can be adjusted for each person so they are not too tight. By the way, the adjustable headband is metal, which is appreciated in this price range.
The overall design of the headset is very beautiful. In a very beautiful way, the black and gray colors are different between the texture and the light. In fact, at first glance, they are very expensive.
All details of OneOdio Focus A10 headphones
It has only four buttons so the operation is very simple. On the right earcup, there are two buttons for volume control and a handy textured button to turn the headset on or off. Because of the content, you will know that you are pressing the power button and not the volume button. Next to the power button is an LED that tells you if it's off or on.
On the right earpiece there is a 3.5 mm jack for connecting to a device with a cable. On the other hand, on the left earpiece, we only find the USB-C port, which is used only for charging the battery, and the ANC button, which enables/disables the noise cancellation.
What comes in the box? In addition to the headphones, there is a hard case made of EVA material, a 3.5 mm audio cable (for wired use), a USB-C charging cable and a user manual.
Excellent wireless connection and good noise cancellation
These headphones use Bluetooth 5.0 with a range of 10 meters to wirelessly connect to your mobile phone, tablet, PC, TV or any other device that supports this connection. In our tests, they did not give us any problems in this regard: just turning them on is enough to connect to your devices, searching in the Bluetooth section.
We had no disconnections, out of sync or high latency failures. The Bluetooth connection is strong and reliable. We also tested them with the 3.5mm cable included in the box and they worked perfectly without any problems.
One of the things that impressed me most about these headphones was their noise cancellation. And, by combining the cups' passive noise cancellation with the button-activated active, they do a great job of canceling out the noise around you. We can't say it's as good active noise canceling as Samsung and Apple's high-end headphones, but they're not far behind.
Up to 50 hours of autonomy and charges in 1.5 hours
Another very significant aspect of the OneOdio Focus A10 is autonomy. You can last up to 50 hours using them to listen to music via Bluetooth. Of course, if you wear them with ANC activation, the autonomy is reduced to about 40 hours. In any case, it seems that the duration is more than acceptable for the type of headphones.
Incidentally, charging them via the USB-C port takes 1.5 hours to reach 100%. It's a lot but the good news is that you can charge it in just 5 minutes and you can use it for 2 hours without any problem.
How good do they sound?
If you're an audiophile, you won't love the OneOdio Focus A10. It has very high bass that drowns out mids and vocals. Also, the treble is not very bright and lacks sparkle and detail. And if that's not enough, the soundstage is poor: all the sound seems to be coming from the same place. They don't separate the instruments well and you can't place the sounds in different places.
In short, we do not recommend these headphones if you are very cautious when listening to music. Now, if you just listen to music for enjoyment and don't mind the small details, the OneOdio Focus A10 won't disappoint you. Plus, for listening to videos and podcasts in noisy environments, they work incredibly well thanks to noise cancellation.
Remember that good headphones for music cost more than 100 euros, so we can't ask for much more than the 60 euro OneOdio Focus A10 in this class.
Is the OneOdio Focus A10 worth it?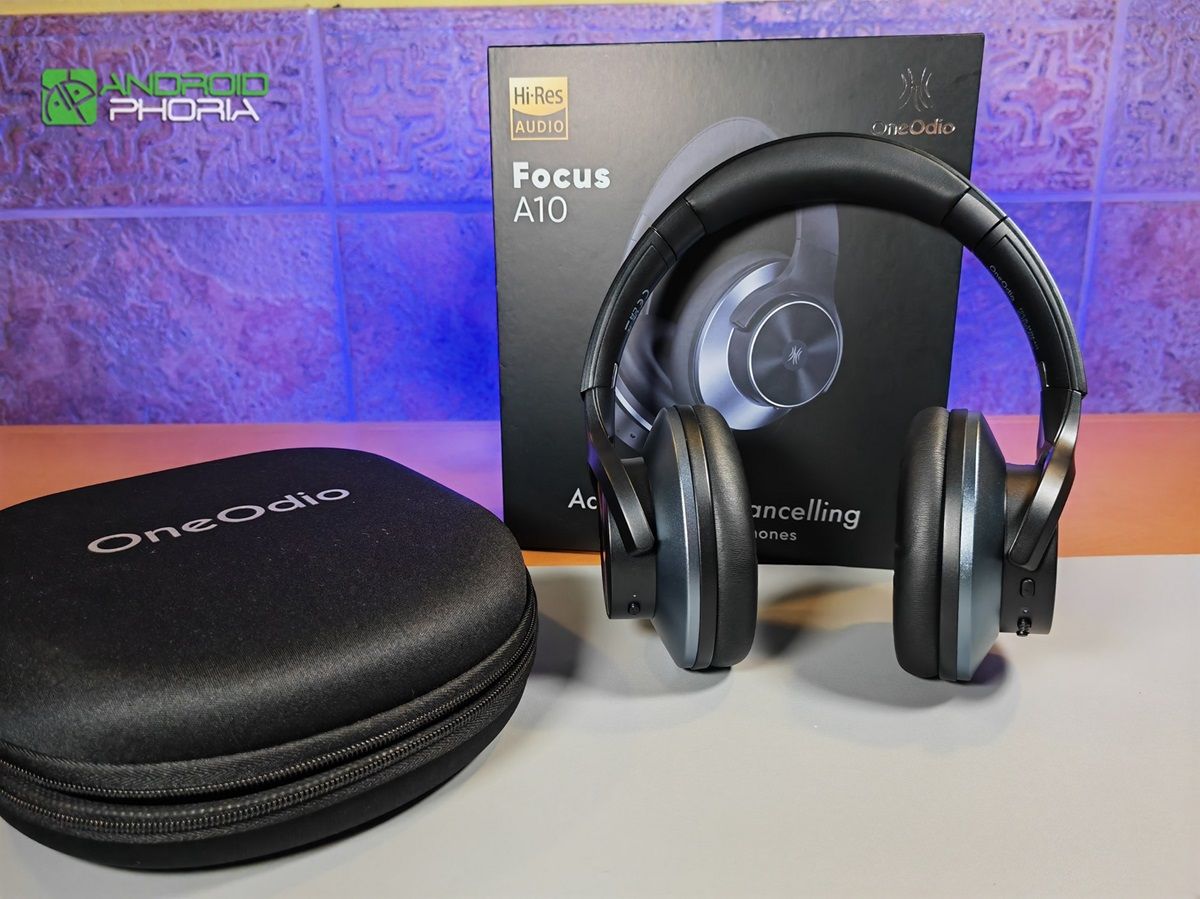 The OneOdio Focus A10 are hybrid headphones with active noise cancellation that offer excellent value for money. The build quality is excellent, the comfort is unbeatable and the autonomy is more than enough. Additionally, their noise cancellation works very well, making them a great option for listening to music, watching videos, or playing games in noisy environments.
However, the sound is not very good. The bass is too loud, the treble lacks definition and the soundstage is too limited. But if you don't want it too much and you don't like the "V" sound, the sound quality won't bother you.
In short, they're a great option for those looking for comfortable headphones, good autonomy, and active noise cancellation. But if you're an audiophile, you won't like them. Currently it costs 50,25 € For Black Friday on Amazon, great value for what you get.