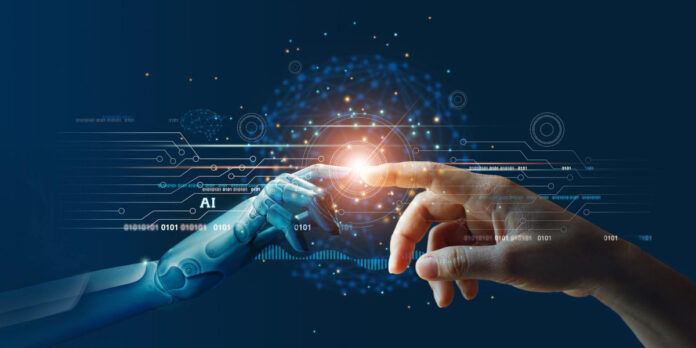 If you are looking for free chatgpt alternatives for android, you will find them in this post. Although ChatGPT is the most widely used chatbot today and the company that created it (OpenAI) is at the forefront of artificial intelligence development, there are many alternatives and here we show you ten of the best.
Before that, the applications of artificial intelligence (AI) are very different. Of course, you must have seen posters like Disney on social networks, because they are made by AI and if you want to know how to make them, check out this post.
Many of these apps have unique features that set them apart. For this reason, we have no doubt that at least one of these apps will interest you. Without further ado, the following are the ten best alternatives to free ChatGPT for Android.
Bing is the most popular of all the chatgpt options
First on this list is Bing. This chatbot developed by Microsoft is not only available as an Android app, but also included in the search engine of the same name and the computer's Microsoft Edge browser.
Thanks to GPT-4, it has an image generator based on DALL-E 3, which allows it to generate with high detail and quality. Bing lets you ask for directions based on photos you can upload from your phone.
He leaves instructions for you to get the most out of each answer. The best thing about this tool is that it is completely free.

Ask AI – Chatbot with GPT, a chatbot that focuses on productivity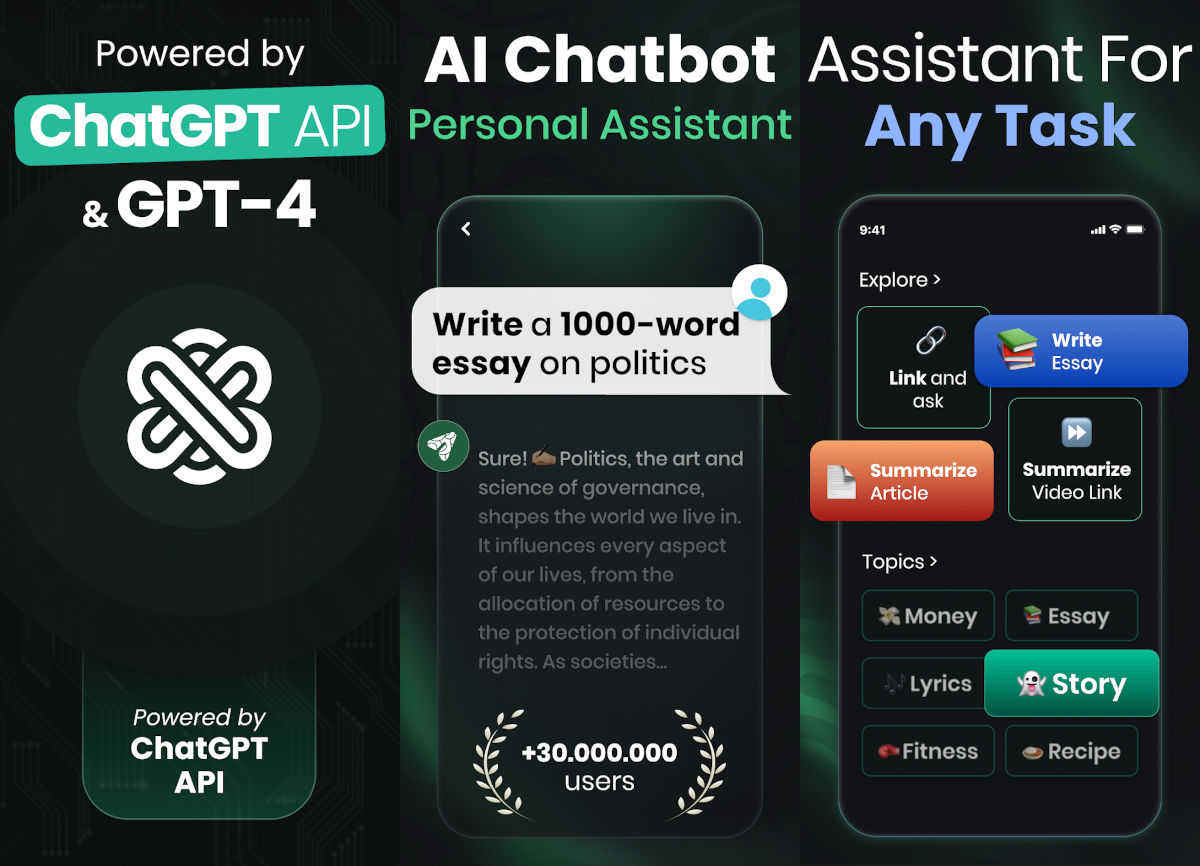 In general, AI applications have the function of improving productivity in various fields, but Ask AI is focused on exactly that. It has a function to summarize all the information on the website if you submit the URL and select a language.
It has a feature called "Ask YouTube" where you can ask any question about a video. If you're looking for specific content rather than general and superficial information, this is a great app, so it's a great option that you should definitely try out.
Chatsonic – AI Chatbot, with a great function to remember your conversations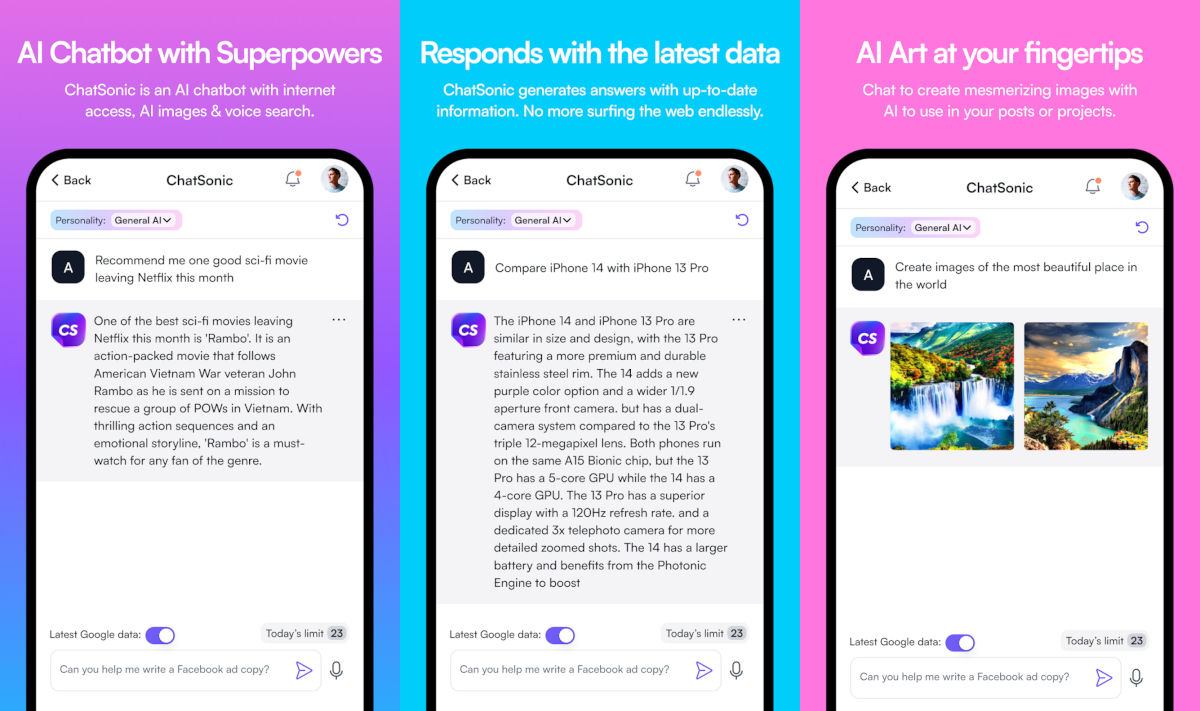 If none of the apps we've presented have convinced you, ChatSonic might be of interest to you. This app is an alternative to the online AI writing tool WriteSonic. So if you have used this tool before and love how it works, you will now have it at your fingertips with this app.
One of the things that makes this application stand out is that, unlike ChatGPT, it has a great feature to remember your conversations with the chatbot. Thanks to its connection with Google, it can provide you with information about the latest news. This way you don't have to worry about how close the AI ​​database is.

Nova is one of the best alternatives to chatgpt as it supports multiple languages.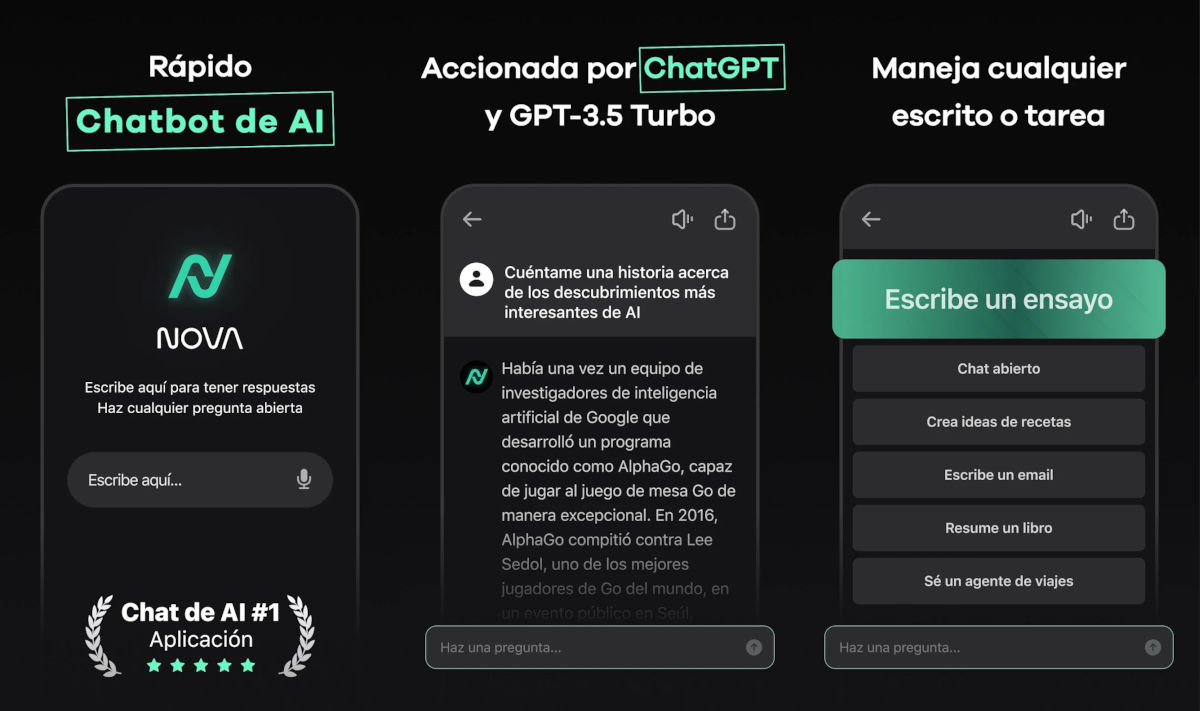 Another good option to consider is Nova. This chatbot is not only based on the technology that makes ChatGPT work, but also based on Google Bard. It also supports a total of 140 different languages.
You can go to the "suggestions" tab to start the conversation faster, you will find different categories like entertainment, history, curiosity and many more.
The most amazing thing about Nova is that in the "Store" tab, you can see personal recommendations from a designer, trainer or nutritionist. In fact, it can even give you book and movie recommendations.

Po, the most complete and intuitive dialog for creating and using bots
Unlike other artificial intelligence applications we've seen, Poe can use AI models created by ChatGPT, Google, and Claude. This allows you to generate responses quickly and efficiently.
This app allows you to create text and image generator bots from different categories. You can find some that are designed for programming, and can also make music.
In addition, you can see the information of each bot creator as well as its functions in detail and what limitations there are. This way, you can determine if the bot is more suitable for what you want to do.
Genie – Chatbot IA in Spanish, a simple and practical alternative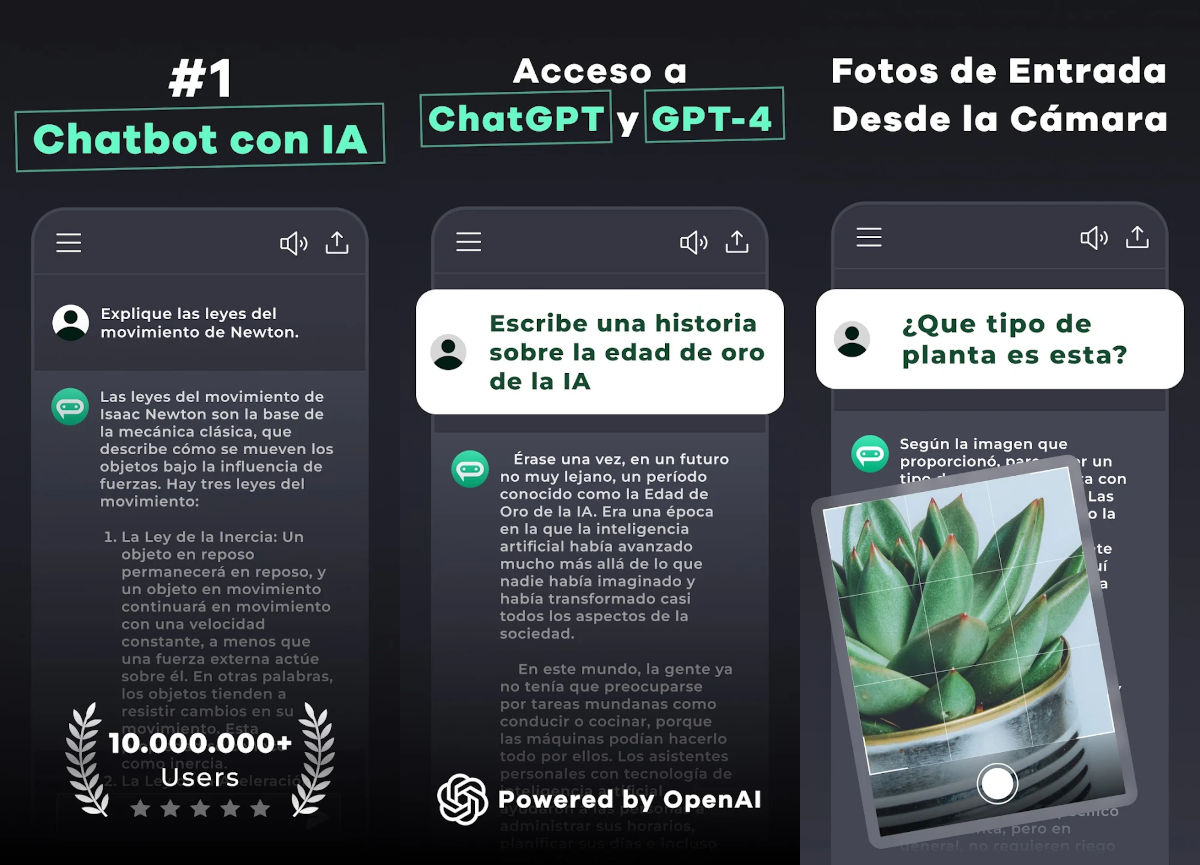 If you want a chatbot that can give you very detailed explanations about some concepts, then you need an app like Genie because that's exactly what it does. This app is perfect for tasks like writing a caption to post on a social network or replying to an email.
Genie can compose messages and parse web pages from documents or photos saved on your phone. It has a free version that works with GPT-3.5, but it has a paid version that works with GPT-4 and the latest OpenAI AI version.

ChatOne, an app that provides answers to handwritten problems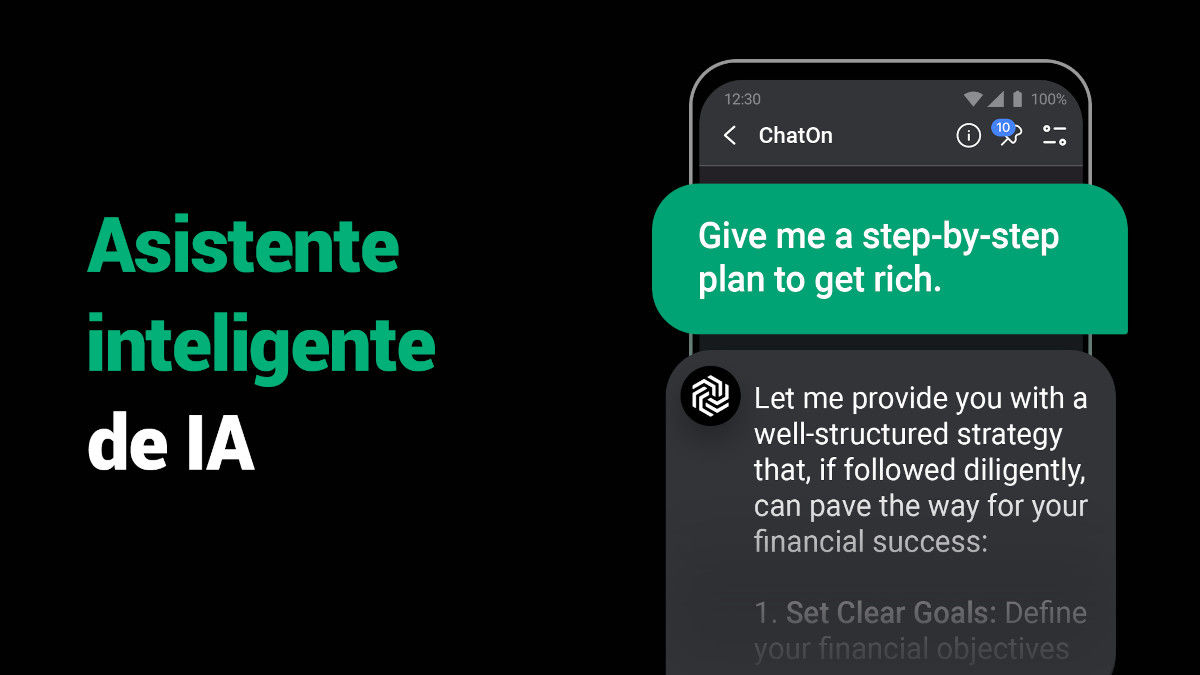 Artificial intelligence apps can be very useful for doing schoolwork, but ChatOne may be the best of them all. This is thanks to the OCR (Optical Character Recognition) function that enables the conversion of images into text.
It can also help you write emails, speeches, create curriculum vitae, and improve your own writing. This is thanks to its functions to improve grammar, create accuracy and improve text structure, but they are not the only functions it has.
It also allows you to ask questions by voice and has a feature called "Chat Partner". This function allows you to talk to this AI as if you were talking to a familiar person.

Cleverr, one of the most versatile free chatGPT alternatives for Android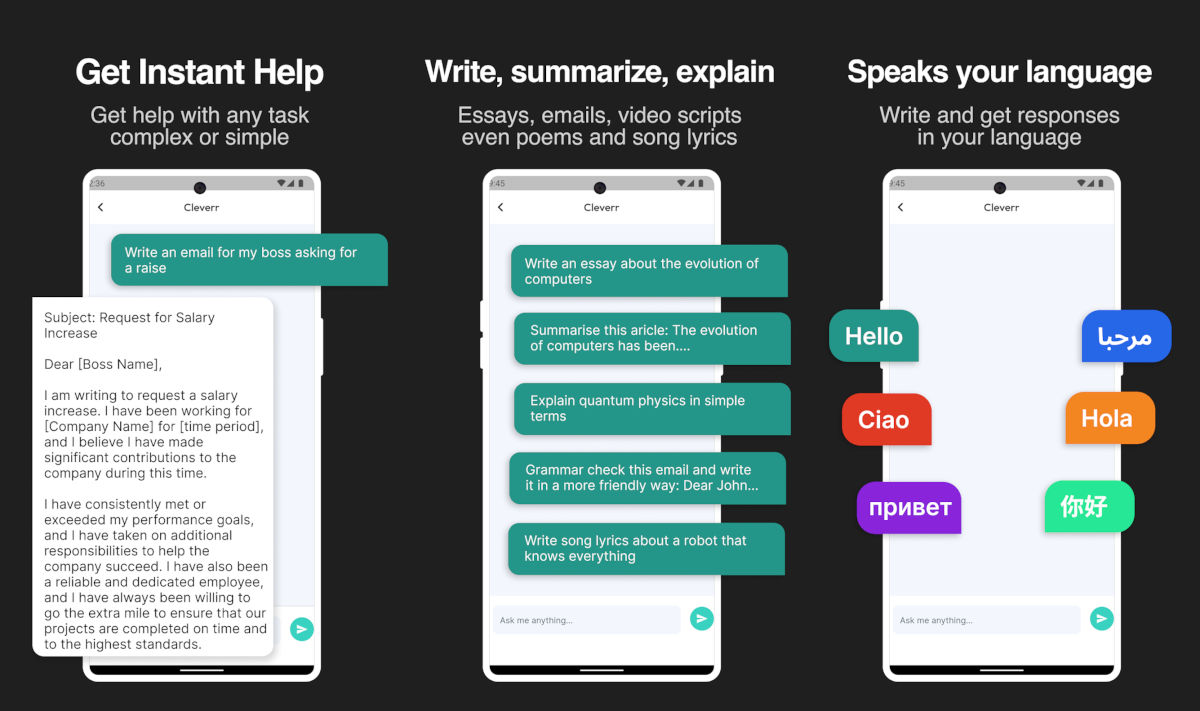 Of the options we've presented, Cleverr may be one of the most versatile because of the many functions it offers you. It works with GPT-4 and can do a lot of things from generating content for social networks, editing an already written article and writing an essay for you.
It is perfect for you if you are a student who can use the application to translate texts in other languages, as well as summarize other texts at hand. You can configure the application to add text commands to speed up the work.
Other features that may interest you are the X (Twitter) post classifier and the question generator if you want to interview. It can also create the basic structure of the text if you need to write it yourself. It even has a joke and recipe generator.

AI Chat – AI GPT in Spanish, a chatbot that does more than just text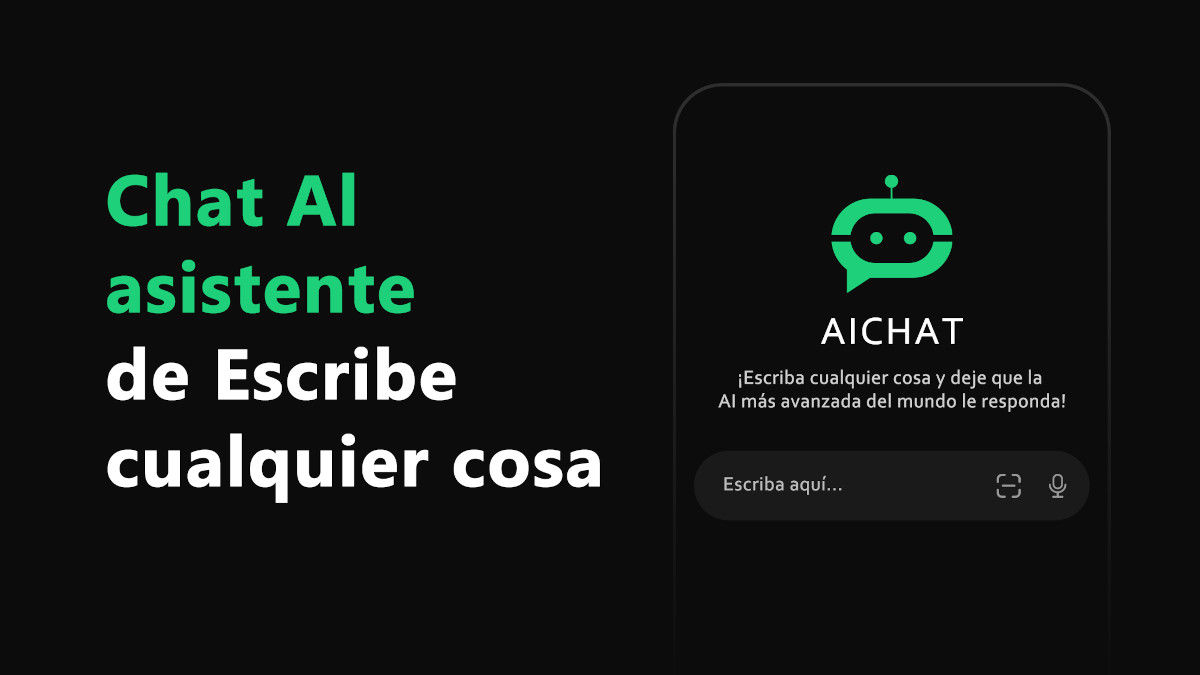 The list is almost complete and this site AI Chat – AI GPT in Spanish is related to GPT-4 and NowAi.v2 algorithm. In addition to creating any type of text, this application also edits your previously written text thanks to its grammar checker and professional rewriter.
However, what we mentioned above is not the most amazing thing about AI Chat. If you're studying math, you can use this app to help you understand a problem or operation you don't understand.
Also, if you are a programmer, you will love the functionality that allows you to check your programming code to make sure there are no errors. It has an explanation function that comes in handy if you want to understand any legal term or technical term that you don't know enough about.

GoatChat, an app where you can have your own virtual assistant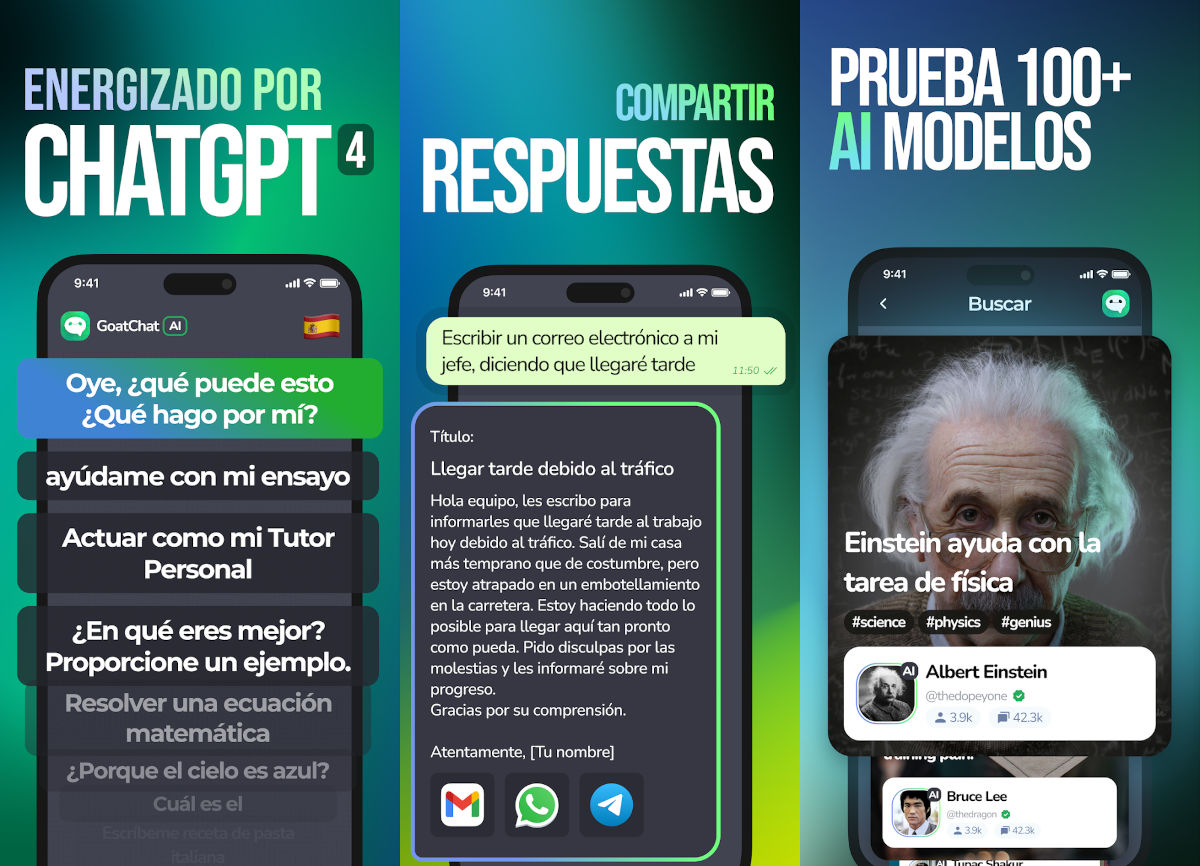 Last on the list, but not least, we have GoatChat. This chatbot works thanks to GPT-4 and has several functions that will interest you. It can write tweets, write essays, translate texts, perform automated tasks and answer any question you ask.
The most popular thing about this application is that it allows you to create a personal assistant that you can name, program with a different personality and advertise on social networks.
It also has other features such as versions of historical figures where you can discuss facts with AI and an image generator. There is no doubt that it is an artificial intelligence application with the best functions.

And what do you think? Which of these free chatgpty options is your favorite? Know of other apps that we haven't mentioned that should be on this list? Leave us your comments and don't forget to share this article.