Recently, thousands of users on Tik Tok, X (Twitter) and other social media platforms have joined the latest trend: the love language test. This test aims to identify people's love languages ​​based on five principles proposed by couples counseling expert Gary Chapman.
Chapman states that there are five different ways of expressing love. Some couples share more than one love language and may not agree with each other. It is important to be familiar with these languages ​​and even encourage them to avoid potential conflicts. If you're interested in finding out what a love language test entails and how you can take yours, read on.
What is the love language test and how to do your own
This test is based on the theory of the five love languages, conceived by psychologist Gary Chapman in 1992. Chapman explains that everyone has a preferred love language that represents the way they love or are loved. Following are the five love languages ​​presented by this psychologist.
Words of Affirmation: People who communicate in this language express their love verbally. For this, their first language, unsolicited praise is crucial, as love notes. However, insults can be harmful. Quality Time: Appreciation for time together is important to these people. Spending time with the people you love is crucial to creating deep and special relationships. Acts of Service: People who use this language show their love through a helpful act or favor. Speaking this language is not a duty but a sign of love to help others in a way that eases their burden. Gifts: In this case, love is defined by gifts and experiences that show the appearance of love. This language is not about materialism or desire; Instead, the list means that they are known and respected by their partner. Physical contact: This language is expressed and received through positive gestures such as holding hands, hugging or kissing. Any kind of physical contact is an expression of love and care.
For example, if one person expresses love with gifts and the other chooses quality time, the former may misinterpret the lack of interest. When two people share the desire for gifts and physical touch, it shows that they agree on their love language and the love between the couple is easily noticed. In both cases, it does not mean that one loves more than the other; It is simply a different expression of love.
How to take your own love language test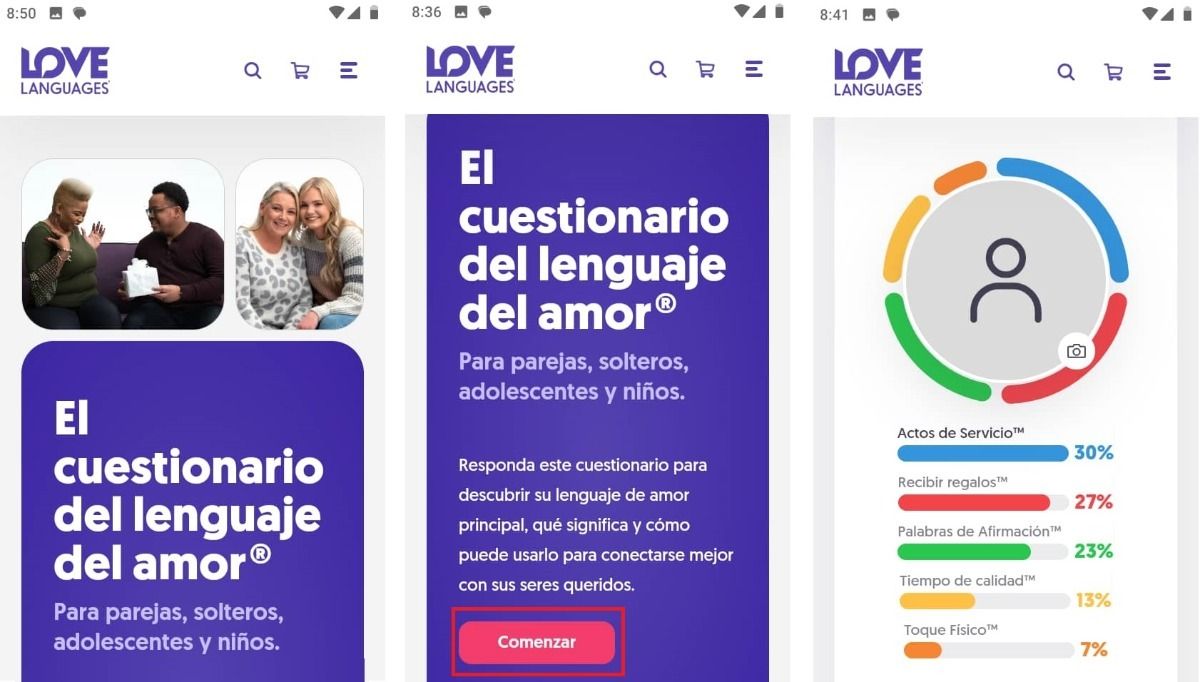 Partner, singles, teenagers and even children can take the love language test for free on the English website 5lovelanguages ​​or by searching Google. . Once logged in, follow these steps:
Look for the icon with the word Start and click on it. The system will ask you to answer how you describe yourself by selecting one of the options provided. Response options: "I'm an adult," "I'm a teenager," or "I'm taking my son's questionnaire." You will also be asked about your marital status, offering the options "single" or "in a relationship". By answering the previous options, you can start the questionnaire to find your love language. Throughout the test, the system tries to find similarities in the answers with the existing romance languages. At the end of the test, find out which way is best for you, as well as tips on how to express love in a way that is meaningful to them. You can easily share this result on social networks.
Since the questionnaire is in English, some users decided to explain in a simple way how to translate the page into Spanish: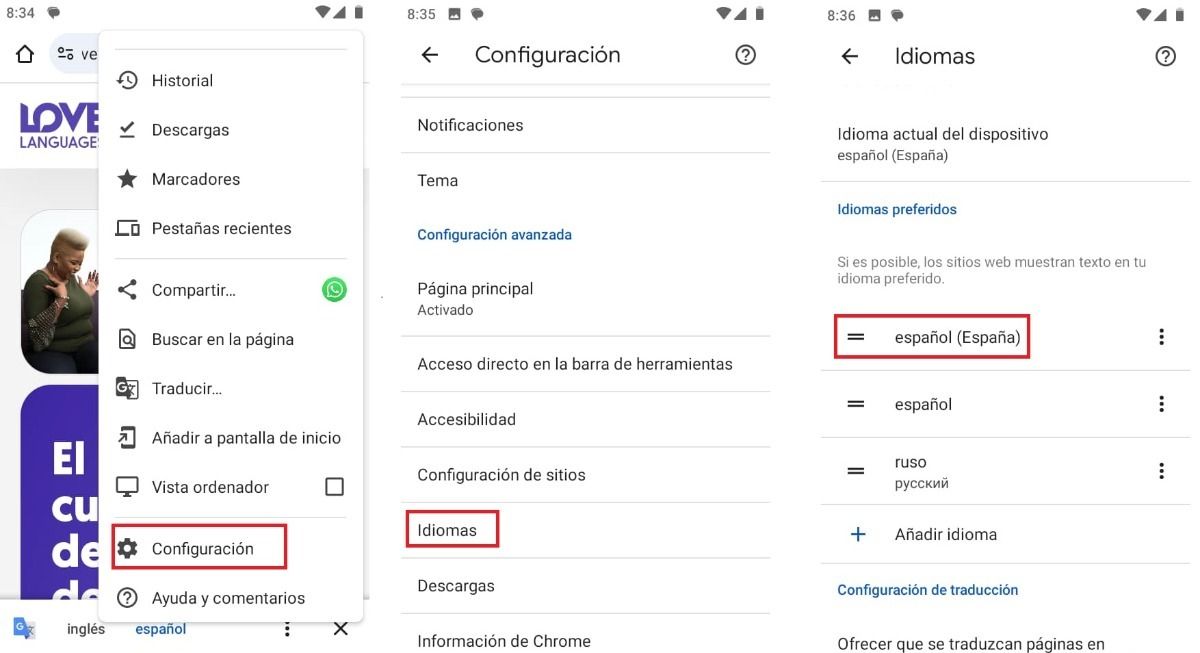 From your mobile device or computer, in the Chrome app, find the three dots above and click the Settings section. In the window that appears, look for the language section. Next, you will find the option of languages ​​to choose from, which you should choose: Spanish (Spain). Now just activate the Use Translator option. This gives you the option to display sites in Spanish when you enter them in another language. Finally, go back to the test site and update; The option to translate to Spanish should now appear, and all questions will appear in that language.
That's it, now take your own love language test and find out if you can express and receive love in a meaningful way. Don't forget to share the result on your social networks!