Unihertz Company has made a difference in the smart mobile market. We've even seen mini cell phones like the Unihertz Jelly 2 and other popular knockoffs like the Unihertz Luna. And although this brand is not very popular or popular, the fact is that the phones break the mold and can be very useful for certain users.
Such is the case of the tank series. From this point of view, we are talking about strong smartphones because of their resistance and the battery gives a lot to talk about. Recently, the new Unihertz Tank 3 was released, we will talk in more detail. We can only give you a small preview here: the battery is incredible.
Features of Unihertz Tank 3
Features
Unihertz Tank 3
Dimensions and weight 179 x 86 x 31 mm. 666 grams. 6.79 inch screen (resolution of 2460 x 1080 pixels) and 120 Hz refresh rate. MediaTek Dimensity 8200 processor with Mali-G610 graphics. RAM 16 GB + 16 GB virtual. Storage 512 GB (expandable up to 2 TB). 200MP main rear camera 50MP wide angle 64MP night vision 8MP telephoto lens. Front camera 50 MP. Connectivity and Extras USB C, Dual Band WiFi 6, Dual SIM 5G, GPS, Bluetooth 5.3, NFC, IP68 certification, 40 meter range laser, 1200 lumens LED flashlight and 3.5mm audio jack. 23800 mAh battery with 120 W fast power Android 13 operating system.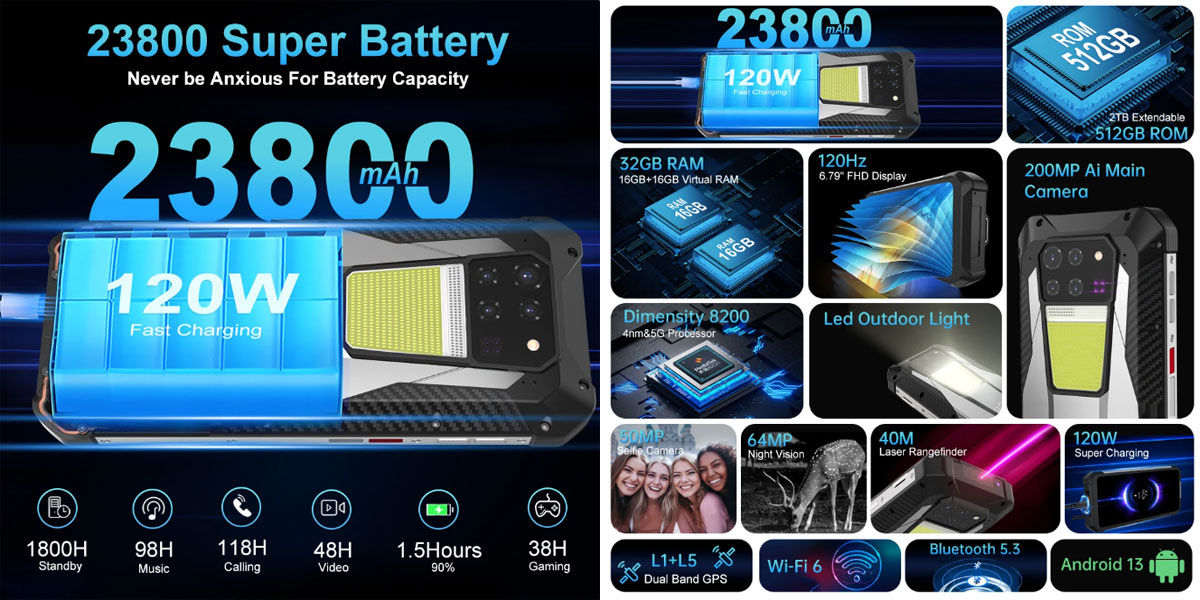 Coming to the point, the most impressive thing about the Unihertz Tank 3 is its 28300 mAh battery, with 120W fast charging. According to Unihertz, it guarantees 1800 hours of operation without performing tasks. In other cases, it gives you 118 hours of calls, 98 hours of music, 48 hours of video and up to 38 hours of gaming. A little, right? Therefore, this model is suitable for those who need an incredibly long battery life.
The rest of the specifications are not left out as they compete well with other smartphones. The display screen is 6.79 inches with a resolution of 2460 x 1080 pixels and a refresh rate of 120 Hz. The Unihertz Tank 3 comes with a MediaTek Dimensity 8200 processor, plus 16 GB of physical RAM + 16 GB of virtual RAM and 512 GB of storage (expandable up to 2 TB).
The photography department includes a rear camera with four sensors: 200MP main, 50MP wide-angle, 64MP night vision and 8MP telephoto sensor. The front camera for selfies is 50MP.
Other interesting additional features make this mobile a suitable option for people who work outdoors. For this, it comes with IP68 certification against water and dust. It also includes a 40 meter long laser, infrared sensor, 1200 lumens LED flashlight and two customizable buttons.
Unihertz Tank 3 availability and price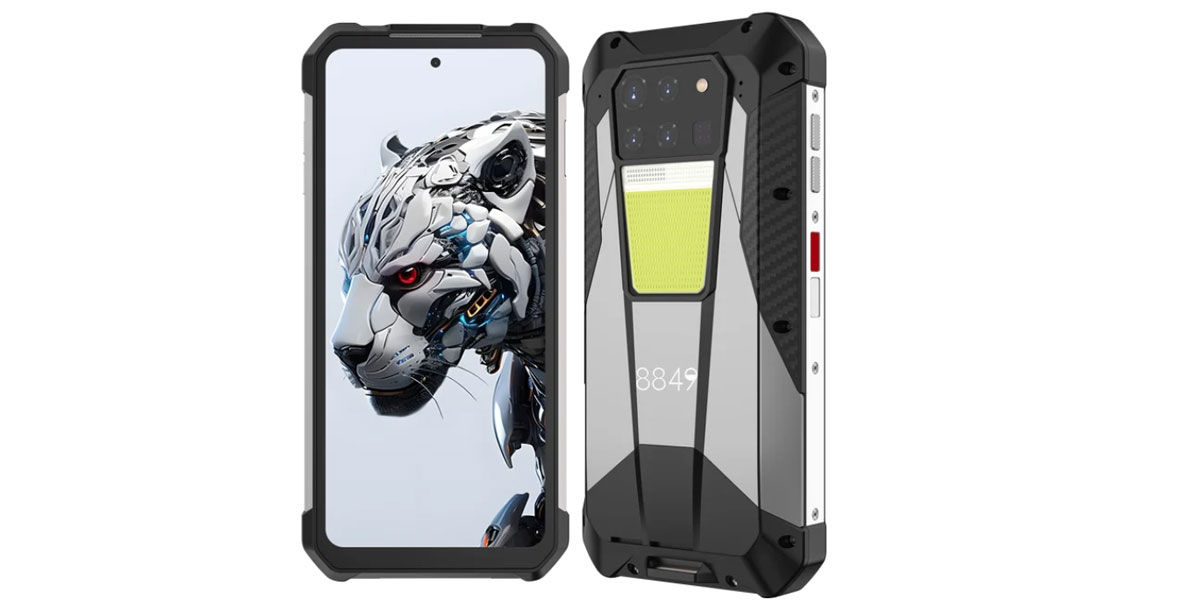 Unihertz Tank 3 comes in one presentation and black. Available for purchase from AliExpress for $499.99 (approx.) 468.57 euros to change). Shipping is to all parts of the world, so we are not talking about a mobile phone in one market. If you are interested in a solid and very durable device, this may be an option to consider.