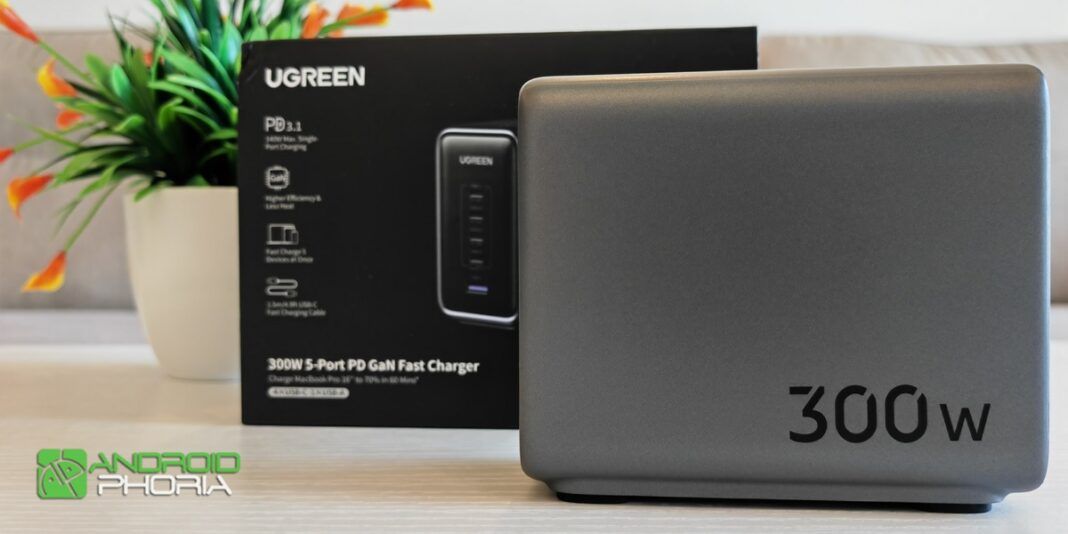 We've got our hands on the fastest and most powerful charger we've tested to date. The UGREEN Nexode 300W is a beast with five ports that deliver up to 140W individually and a combined 300W of power, which means it can charge up to three laptops simultaneously at high speeds. Crazy!
If you want to reduce the number of cables and chargers on your desk, pay attention to the UGREEN Nexode 300W. In this review, we will examine its features, design, performance and price and see if it delivers on its promise.
UGREEN Nexode 300W: 5-in-1 charger with individual power up to 140W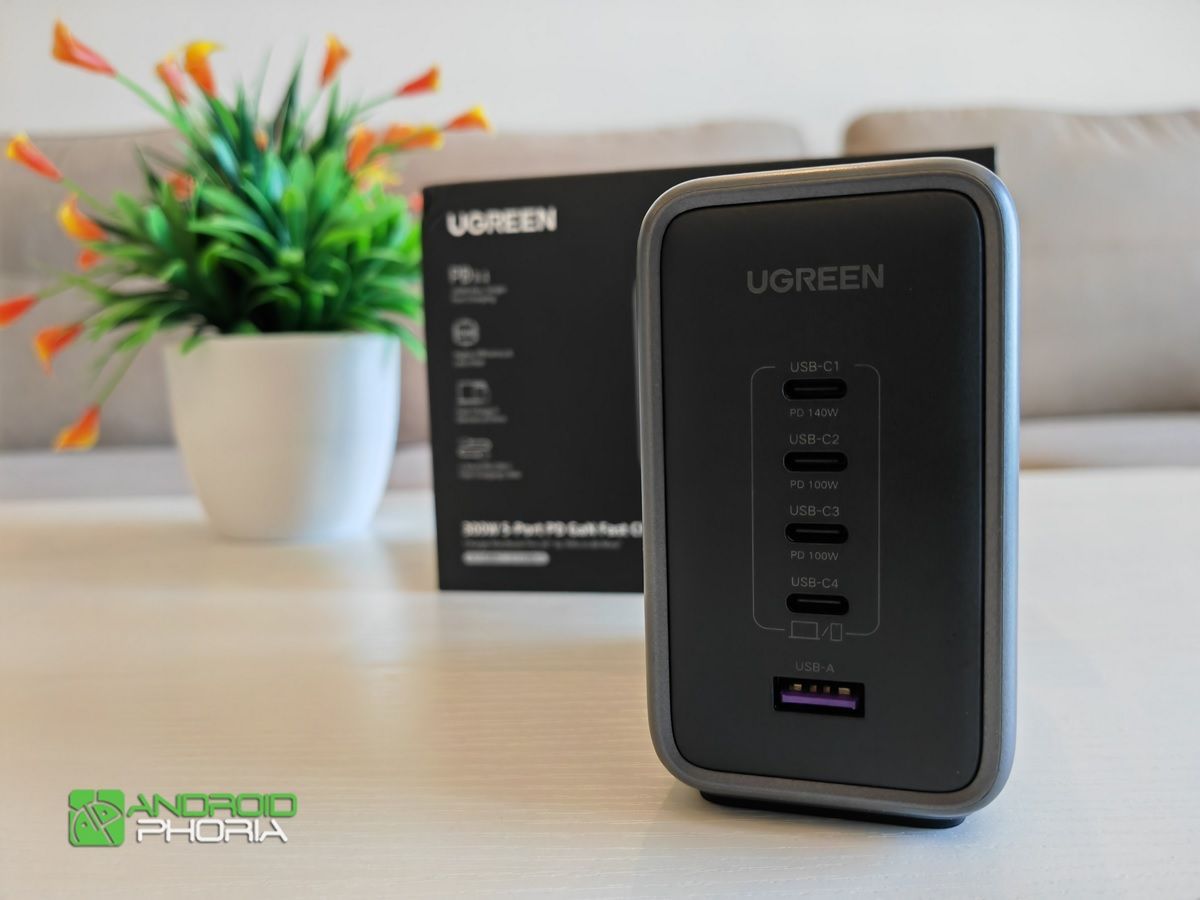 Although it is not very visible in the pictures, UGREEN Nexode 300W is a really big fast charger. You can't carry it in your pocket and you probably don't want to carry it in your bag because it weighs about a kilogram. Therefore, it seems better to us as a charger to fix it on the table. Before going into the details, check out the technical paper:
Features
UGREEN Nexode 300W
Dimensions and weight 10.9 x 9.4 x 5.1 cm. 816.47 grams. Total output power is 300W. Individual output power USB C1: 140 W max. USB C2: 100 W max. USB C3: 100 W max. USB C4: 45 W max. USB A: 22.5 W max. GaN III material. Supported protocols PD3.1, PD3.0, PPS, QC5.0, QC3+, QC3.0, SCP(10V2.25A), FCP, AFC, Apple 5V2.4A, Samsung 5V2A and BC1.2. Protection Short circuit protection, over voltage protection, over temperature protection, over current protection, power distribution system and overload protection. Accessories include 1 x 1.5m USB cable with 240W support and 1x2m power cable. Compatibility Android phones, iPhone, laptops, iPad, MacBook, headphones, Nintendo Switch, Steam Deck, and more.
What does the UGREEN Nexode 300W 5-in-1 battery charger look like?
UGREEN was not disappointed with the build quality of the Nexode 300W. It is a solid, strong and heavy block with a metal finish handle and smooth texture. The design is minimalistic and elegant due to its rounded corners and two-tone gray color. In addition, although it is not small, it does not take up much space on the table and is very discreet.
All details of UGREEN Nexode 300W battery charger
On the front, it has five ports, four of which are USB-C and one USB-A (by the way, this is the only purple one). What we really like is that the first three USB-C ports have their maximum speeds marked below so you know where to connect your device for the maximum supported charging power without consulting the manual.
The charger comes with a detachable 2-meter long power cord so you can place it wherever you want to connect it. It also comes with a 1.5m USB-C to USB-C cable, which is very durable as it has a braided nylon jacket and metal tip. In addition, it is rated for charging up to 240W, so you can use the charger for maximum power.
As we mentioned at the beginning, UGREEN Nexode 300W is not a compact or lightweight charger. It is designed to sit on a table as it has a pair of wheels on the bottom to prevent it from sliding or moving. Yes, you can move it around and place it wherever you want, but it's not very convenient to carry around, so you'd prefer to fix it on a table.
How does the UGREEN Nexode 300W fast charger work?
The power of UGREEN Nexode 300W 300W can only be obtained by connecting several devices to different ports. By connecting a device to the USB-C1 port, you get up to 140W, which is the highest charging speed this charger offers.
As with other chargers, this high speed is maintained when using the rest of the ports. Of course, only the USB-C1 port gives you 140W, the others are slower and vary depending on the ports you are using at the same time.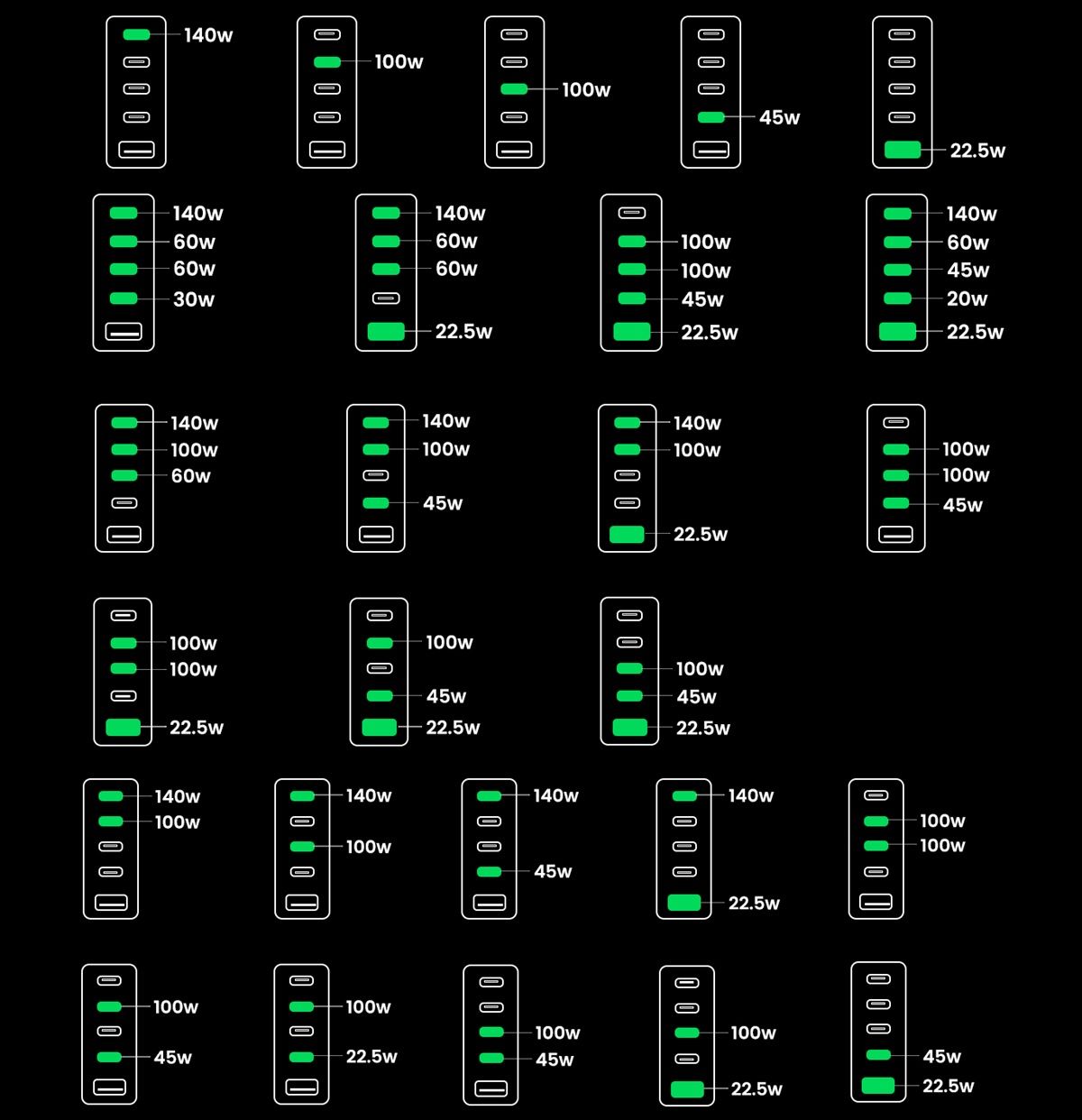 Likewise, it's important to highlight that this charger can't charge at the highest speed if your device doesn't support any of these protocols: PD 3.1 or below, PPS, QC 5.0 or below, SCP(10V/ 2.25A), FCP, AFC, Apple (5V/ 2.4A), Samsung (5V/2A) and BC 1.2. You can find out which charging protocols your device is compatible with on the special sheet, but we can assure you that UGREEN Nexode 300W works with the following devices.
Portátiles: MacBook Pro/Air M2, Dell XPS, Surface Book, ThinkPad, for Tablet: iPad Pro 12.9″/11″ series. Compatible with: iPhone 14/14 Plus/14 Pro/14 Pro Max/13/13 mini/13 Pro/13 Pro Max/iPhone 12/12 Pro/12 Pro Max, Galaxy S23/S23+/S23 Ultra/S22/S22+/S22 Ultra / S21 / S21+ / S21 Ultra / Note20 / Note20 Ultra / Redmi Note Series. Auriculares: AirPods Series, Galaxy Buds Series, etc. Consoles: Nintendo Switch, Steam Deck, ASUS ROG Ally, Lenovo Legion Go, etc
In terms of performance, we were able to charge the 16-inch MacBook Pro from 0 to 56 percent in 30 minutes. It should be noted that the charger inside has two GaN III chips on one side which prevent it from generating heat and overheating. In fact, we didn't notice it getting alarmingly hot when using full power, which is really impressive.
Is the UGREEN Nexode 300W Fast Charger worth it?
The UGREEN Nexode 300W is exactly what it promises: an ultra-powerful charger that can charge multiple high-demand devices at once. It's very well made, includes a USB-C cable that's compatible with the highest charging speeds, and its sleek and discreet design makes it a perfect place to sit on a desk.
Is it worth it? It depends, 300W is a lot of power and you may not need that much. And for example, if you have an 85W MacBook, two 45W cell phones, a 45W Steam Deck, and 10W headphones, you'll be left with 115W when charging all devices at the same time. And most of the time you probably don't need to charge them all at once. So take a close look at your power requirements to see if it works for you.
Please note that this charger has an official price of €269.99. However, you can find them for sale on Amazon. 199.99 €. If you're looking for a charger that can give you 300W with multiple ports, you'll love the UGREEN Nexode 300W.
You can also get it from the official store of the brand. €70 discount To start with this key: