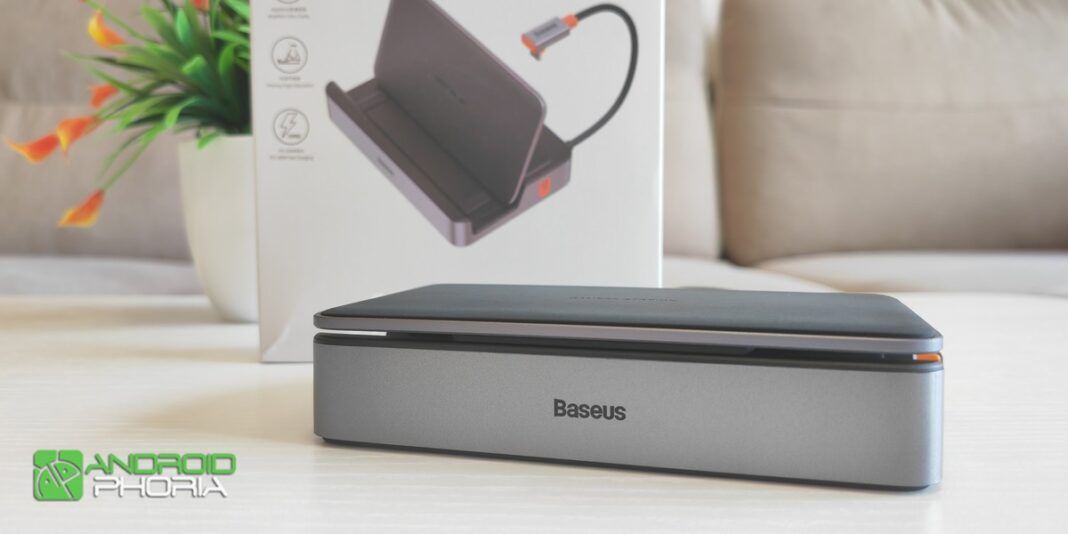 From fast chargers and power banks to wireless headphones, Bezeus has a wide range of great products to help you get the most out of your devices. Now the manufacturer has launched a docking station for Steam Deck and ASUS ROG Ally portable consoles. This gadget, Baseus DockStation 6 in 1, allows you to add many more ports to connect external screens, peripherals, USB drives and wired internet to your console.
But what sets the Baseus DockStation 6 in 1 apart from other similar products is that it includes an adjustable kickstand to hold your console at the angle of your choice. We have been using this site for the past few days to tell our experience about it and analyze if it is worth it. get started!
The Baseus DockStation 6 in 1 is one of the most complete hubs for your Steam Deck or ROG Ally.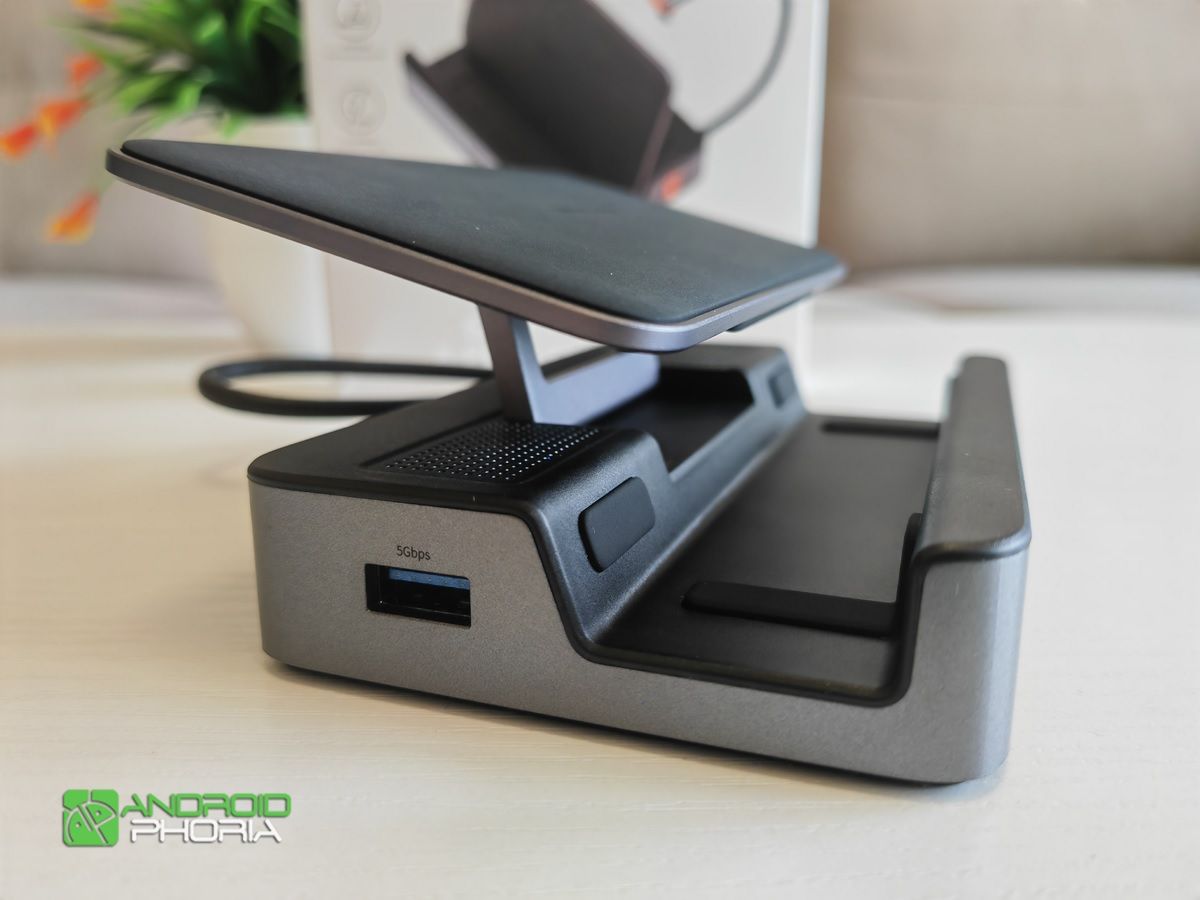 The Steam Deck and ASUS ROG Ally are undoubtedly the best portable consoles on the market, but they lack what made the Nintendo Switch king: the docking station to turn it into a desktop console. The good news is that both laptops are compatible with any USB-C hub, so you can connect to your TV without buying official accessories.
Most of the USB-C interfaces on the market are not designed for these consoles for two reasons: limited screen resolution (low resolution or low FPS rate) and their design is not made to handle the console. The new Baseus DockStation 6 in 1, on the other hand, is designed to expand your Steam Deck or ROG Ally options and easily connect to your TV. Check out its technical sheet to confirm it:
Features
Baseus DockStation 6 en 1 pair Steam Deck and ASUS ROG Ally
Manufacturing Material: Aluminum alloy body and soft silicone surface. Dimensions and weight 13.5 x 8.6 x 3 cm. 318 grams. USB-C cable output capable of transmitting video and audio signals and supporting 100W PD fast charging protocol 1 x HDMI (4K at 60 Hz max.) 3 x USB-A 3.0 (5Gbps) 1 x USB-C 3.1 charging (PD charging (supports up to 100 W) 1 x RJ45 Ethernet (1000 Mbps). Support can be tilted at 70º or 45º. Compatibility Steam Surface, ASUS ROG Ally, iPad Pro 12.9, iPad Pro 11, iPad Air 5, Surface Pro 8, Surface Go 3, Galaxy S22, Galaxy Note 22 Ultra, HUAWEI P40 Pro, HUAWEI Mate 40 Pro, other compatible operating systems Windows, Apple OS, Linux, Android and Vista.
It has good build quality at the height of your console.
What impressed us most about this docking station was the excellent build quality. The entire body is made of aluminum alloy and the parts that hold the console have a soft silicone finish to prevent scratches. In addition, the ports do not move at all and are firmly fixed to the body of the station. In short, we are looking at a premium product.
The Baseus DockStation 6 in 1 pad is adjustable for the Steam Deck or ASUS ROG Ally to rest on. It allows you to position the console at 70º or 45º and thus enjoy the viewing angle you like the most. You can also close this pad so it doesn't take up any space so you can easily carry the docking station in a bag or suitcase.
The station's USB-C cable has a 90º angled tip, which makes it easier to connect to the console and prevents it from bending. A curious thing about this station is that it has an orange hole to insert the end of the USB-C cable into when not in use. It doesn't add much, but it's very useful to collect the cable and keep order.
All details of Baseus DockStation 6 in 1
The Baseus DockStation 6-in-1 adds a total of 6 ports to your console: three USB-A 3.0 ports, one HDMI input, one RJ45 Ethernet port, and one USB-C 3.1 charging input. By the way, this hub works not only with Steam Deck and ASUS ROG Ally, but also with devices that can transfer data via USB-C (such as laptops, mobile phones, tablets, etc.).
What can you do with the Baseus DockStation 6 in 1?
Using Baseus DockStation 6 in 1 is very easy. You just need to connect the USB-C cable to your console and that's it. Now you can use all ports as follows:
HDMI: Using an HDMI to HDMI cable, you can stream your console's screen to a monitor or television at up to 4K resolution and up to 60 FPS. This connection is compatible with 2K/60 Hz and 1080p/120 Hz resolutions. USB-A: The docking station has three ports that allow you to connect different types of devices to the console. For example, USB sticks, controllers, mice, keyboards, 2.4 GHz dongles, charging cables, etc. USB-C: This port is for power input only. That is, charging the console while connected to the docking station. This port supports charging speeds of up to 100W, but in practice the actual speed is determined by the power of the charger and the maximum power supported by the console (45W on Steam Deck and 65W on ASUS ROG Ally). Of course, the port does not support the ROG Ally 30W turbo mode. RJ45 Ethernet: With this port you can connect your portable console to the wired internet. The benefits of this connection are fast and stable game download speeds of up to 1 Gbps and very low latency for playing online games without lag.
As you can see, it is a very complete site, although it is not the most complete. It doesn't offer DisplayPort connectivity and has no slots for SD cards or SSD drives to expand storage. But to be honest, we don't see the display port connection as necessary for portable consoles, and the option to expand the storage is not necessary since there are many USB-A ports to do this, as well as microSD on the consoles themselves.
What we miss is a pair of USB ports on the front of the station, which would be very useful for using a wired controller.
Is the Baseus DockStation 6 in 1 the hub your Steam Dock or ASUS ROG Ally deserves?
In short, Baseus DockStation 6 in 1 is a very useful docking station for Steam Deck and ASUS ROG Ally portable consoles. It offers a variety of ports including HDMI, USB-A, USB-C and Ethernet. Unlike most products of this type, it features an adjustable support plate to hold the console at the desired angle.
It is made of high quality material and has a beautiful design. It's easy to use and works not only with consoles, but also with any device that supports USB-C data transfer.
It's a great option for those who want to turn their Steam Deck or ASUS ROG Ally into a home console with more connectivity options. It's the price. 49,99 euros. Are they worth it? Definitely yes.