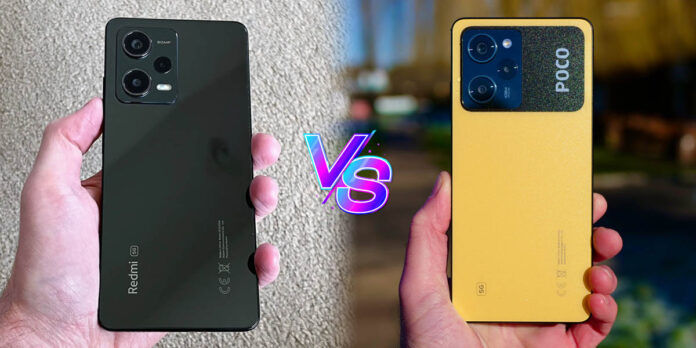 The Redmi Note 13 series might already be in the market and the POCO X6 might be around the corner. even if, There are two cell phones from previous generations that continue to sell like hot cakes.: Redmi Note 13 Pro 5G and POCO X5 Pro 5G sales reason? Very complete specifications at an amazing price, especially now that it's reduced.
However, this pair of affordable mid-range phones creates a debate around them, as many users don't know which one to buy. The reason is clear: Although they are not the same, they are similar in many ways.. If you are faced with this situation, and you are the person who is going through it, we have decided to give you a hand. We compare the Redmi Note 12 Pro 5G. POCO X5 Pro 5G to settle the case and let you know which one is better.
Specifications Comparison Chart: Redmi Note 12 Pro 5G Vs. POCO X5 Pro 5G
Details
Redmi Note 12 Pro 5G
POCO X5 Pro 5G
Dimensions and weight 163 x 76 x 8 mm. 187 grams. 162.91 x 76.03 x 7.9 mm. 181 grams. 6.67-inch full HD+ screen (2400 x 1080 pixels) with OLED panel, 120 Hz refresh rate, 20:9 aspect ratio, 395 ppi, 900 nits peak brightness (HBM), Dolby Vision and Corning Gorilla Glass protection 5. MediaTek Dimensity 1080 processor with Mali-G68 MC4 graphics. Qualcomm Snapdragon 778G with Adreno 642L graphics. RAM 6/8/12 GB LPDDR4X. 6/8 GB LPDDR4X. Storage 128/256 GB UFS 2.2. Triple rear camera: main 50 MP f/1.9, Sony IMX766 sensor, PDAF and OIS. 8 MP ultra wide angle with f/2.2 and 120º field of view. 2 MP macro with f/2.4.
Dual flash LED. Graba en 4K a 30 FPS o en 1080p a 60 FPS.
Triple: main 108 MP f/1.9, Samsung HM2 sensor and PDF. 8 MP ultra wide angle with f/2.2 and 120º field of view. 2 MP macro with f/2.4.
Dual flash LED. Graba en 4K a 30 FPS o en 1080p a 60 FPS.
16 MP front camera with f/2.5 and AF. 16 MP with f/2.4 and AF. USB-C Connectivity, Dual-Band WiFi 6, Dual-SIM 5G, Bluetooth 5.2 LE, NFC, GPS, GLONASS, Galileo, BDS, QZSS (Redmi only), Side Fingerprint Reader, Infrared, Dust and Splash Resistance (IP53), 3.5mm Jack and stereo speakers with Dolby Atmos. 5000 mAh battery with 67W fast charging Android 12 operating system with MIUI 13. to Android 13. Android 12 under MIUI 14 for POCO. Updated to Android 13. Price from €379.99 (launch). From €349.99 (start). Buy here
Although they look different, the design is basically the same and the screens are two water drops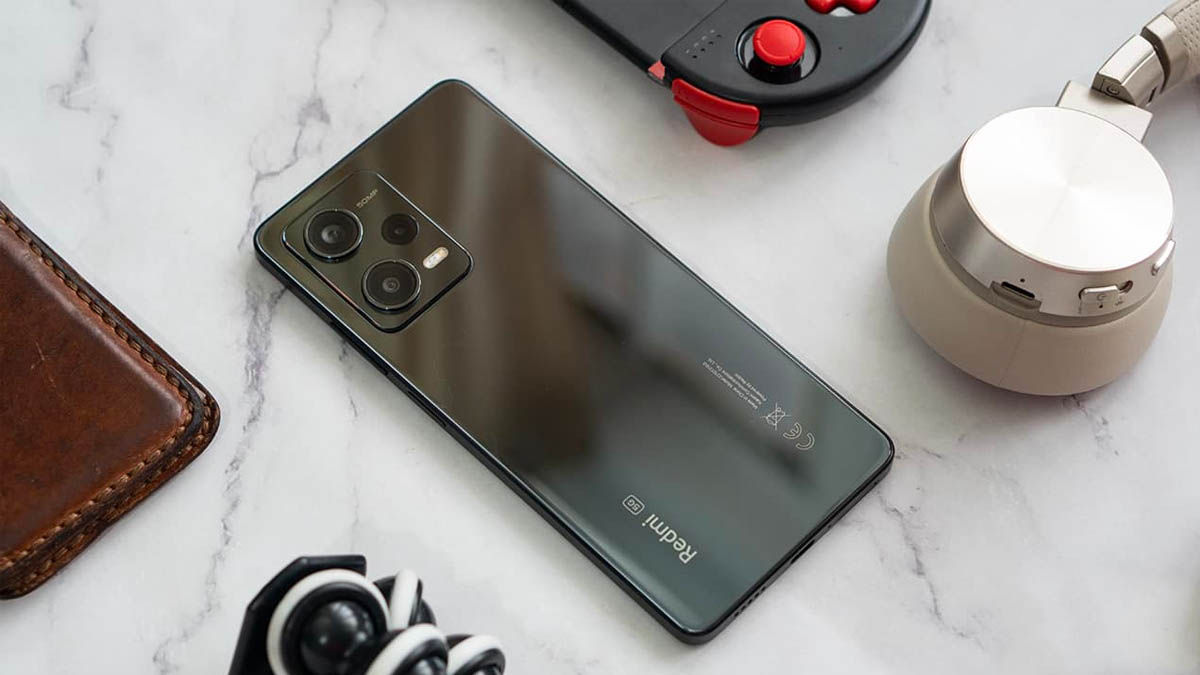 Although after a quick glance they look like two very different terminals, when you stop for a moment you will notice that they actually look very similar. It is only natural that this is the case since Xiaomi decided to use the same design scheme in Redmi Note and POCO. The differences? Except for a few grams of weight, basically The only difference is the colors.
The POCO has its own 'patch' on the back that makes the camera module bigger (although it isn't). In addition, it is sold in yellow, blue and black. rather than The Redmi Note does not have that specification On the back and sold in black, blue, white and lilac (the latter with star effect).
For the rest, the design is the same: IP53 protection, straight sides and with a fingerprint reader in one; Dolby Atmos certified stereo speakers3.5mm headphone jack, same design of camera module and more.
Since both devices have the same screen, this is the same thing with the screen: a 6.67 inch OLED panel with full HD+ resolution, 120 Hz refresh rate, 900 nits peak brightness (HBM), HDR10+ and Corning Gorilla Glass 5 protection. If it has too many similar elements, it doesn't matter which one you choose yet, but the difference comes in the next part.
POCO X5 Pro boasts of its power, which is its best feature.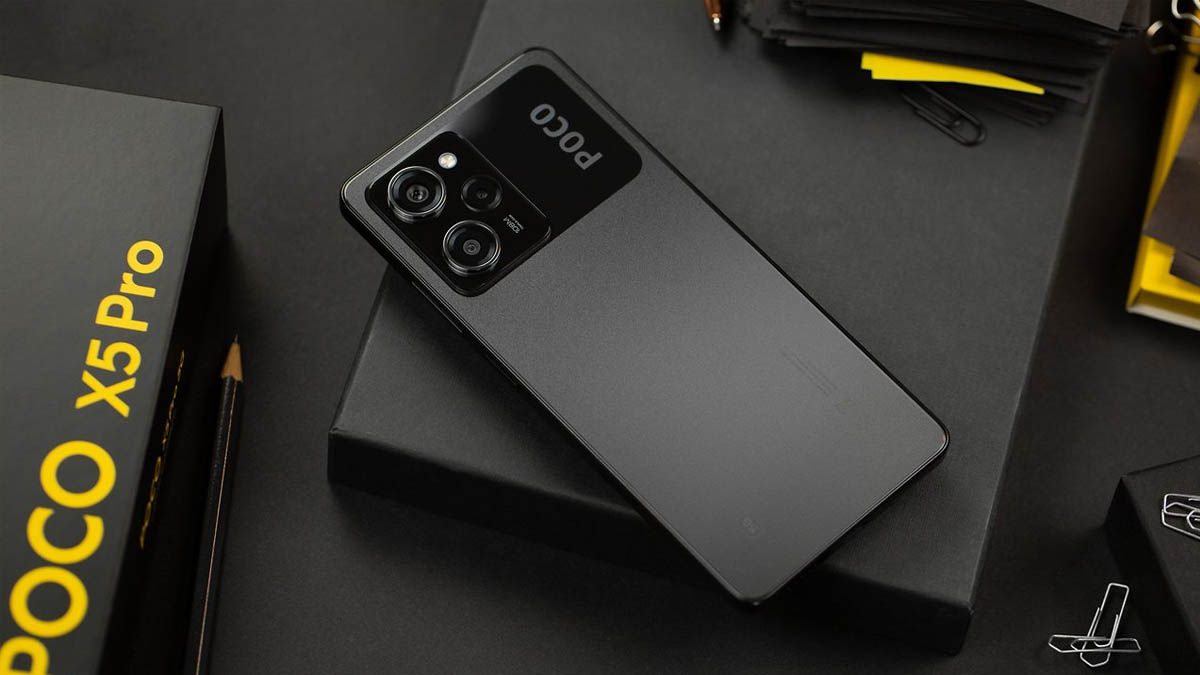 As usual, POCO smartphones focus on power above all else and the POCO X5 Pro is no different. This device contains a Snapdragon 778G, one of the best mid-range chips with 5G. Qualcomm is on the market (with Snapdragon 7 license). This comes with 6 or 8 GB of RAM and 128 or 256 GB of storage.
The Redmi Note 12 Pro 5G, on the other hand, is equipped with a MediaTek Dimensity 1080. This SoC is also very good, but having only two Cortex-A78 cores instead of four takes its toll. exactly, You can combine it with up to 12 GB of RAM and up to 256 GB of storage.
RAM is a positive thing for the Redmi Note, as it allows you to run multiple applications in the background smoothly. even if, The power of the POCO X5 Pro is clearly superior.As shown in the following list and graphic:
AnTuTu 10: POCO X5 Pro is 20.7% better than Redmi Note 12 Pro 5G. Geekbench 6: POCO Redmi outperforms by 6.7% in the single-core test and 25.9% in the multi-core test. 3DMark Wild Life Extreme: The POCO GPU is 8.2% more powerful than the Redmi Note.




The Redmi Note 12 5G is firmly committed to a 50 MP primary camera with a Sony sensor and OIS.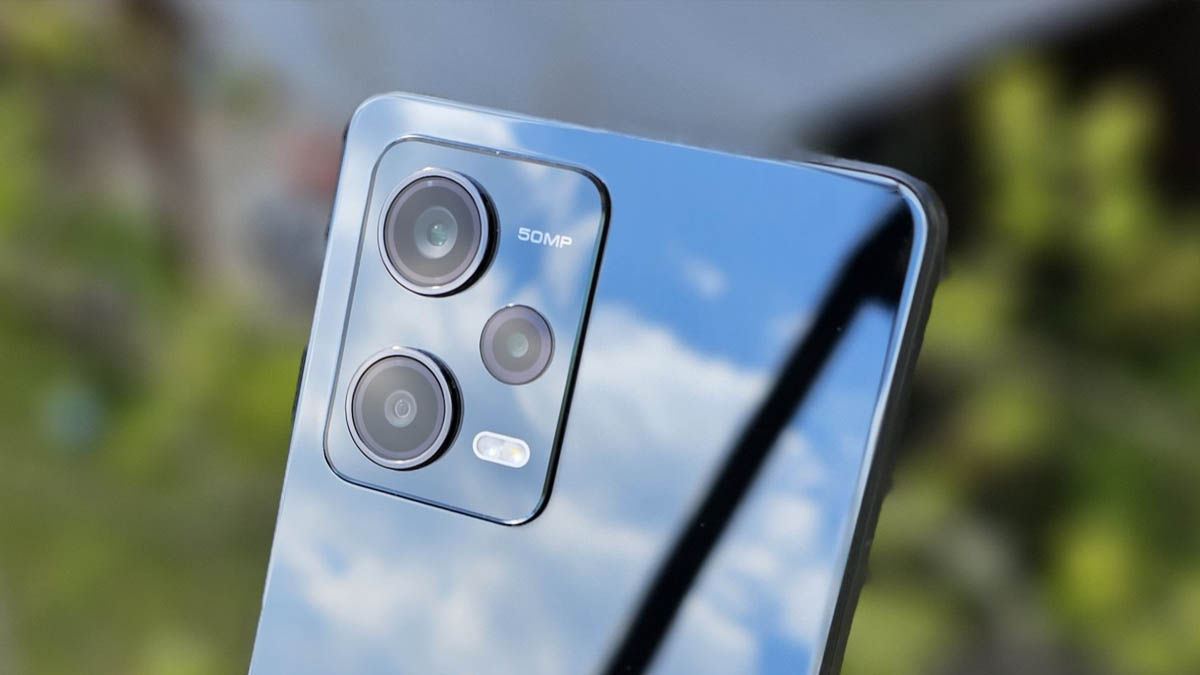 Now, if the POCOs focus on power, their counterparts from the Redmi Notes opt for better cameras. This is the case between POCO X5 Pro 5G and Redmi Note 12 Pro 5G. Both devices share almost all of their cameras.But the difference is in the main and important.
Let's start with similarities shall we? Both phones have an 8MP ultra-wide-angle camera with f/2.2 and 120º rear field of view. Similarly, A 2MP macro sensor with f/2.4 on both. Same story with the front camera, which is a 16 MP sensor with f/2.4.
Which of these cameras is better for taking photos and recording videos? Since they are exactly the same and are Xiaomi devices that use the same camera app, you can expect very similar results. However, this cannot be replicated with flagship cameras.
Yes, it's true that the POCO X5 Pro 5G has a 108 MP sensor that attracts a lot of attention due to its massive resolution. Despite this, the Samsung HM2 sensor is only 50 MP smaller than the Sony IMX766. Used on Redmi Note 12 Pro 5G.
The Sony sensor captures images with more natural colors and is an icon in the mid-range. the reason? It delivers impressive performance for the price. Xiaomi also improves this by adding a camera Optical Image Stabilization (OIS), something that doesn't have a POCO. This is a very useful feature when recording videos and taking photos when there is a lot of activity and it shows clearly in the results.
That's not to say that the POCO X5 Pro 5G's 108MP camera is bad, as it delivers great results. However, it is low and here we are looking for the best.
The last tie is in the battery and the charging system, but not in the autonomy
As we pointed out from the beginning, these devices have many things in common. This is confirmed again in the power department as both devices have 5000 mAh batteries. They have 67W fast charging.Although there is a curious detail.
Considering the many similarities, it is common to think that the autonomy of these devices is very similar, but it is not so. Interestingly, POCO X5 Pro 5G is capable of getting more hours of operation from the same battery capacity as you can see in the graphs: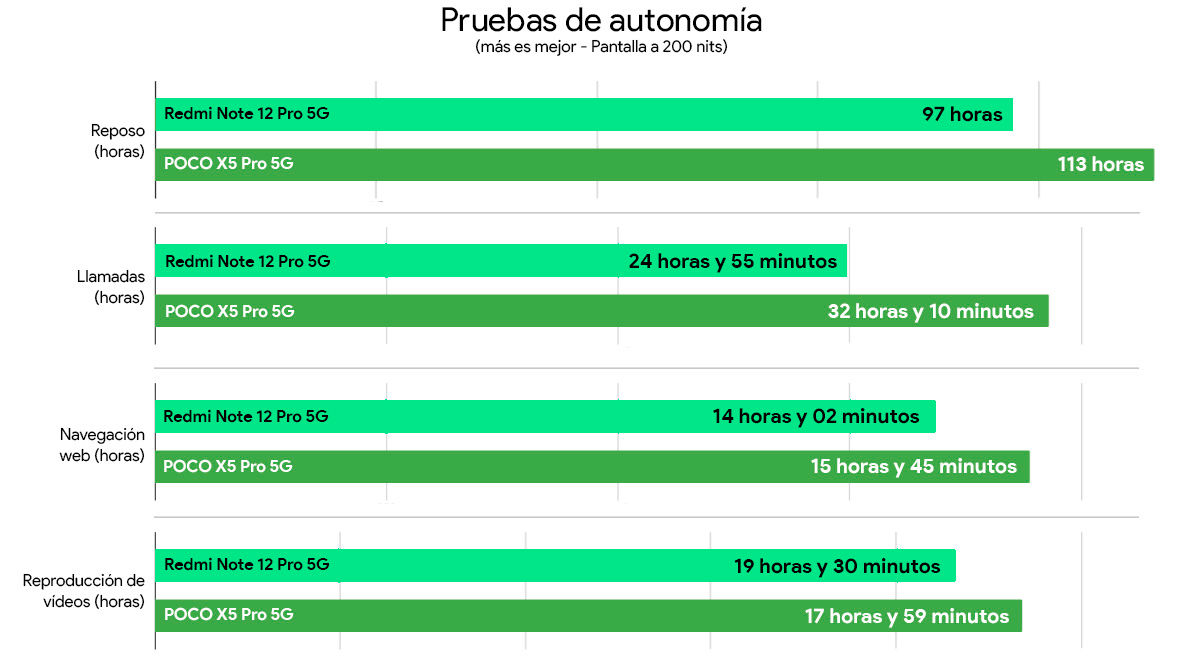 How can this be if the POCO X5 Pro 5G Snapdragon 778G is even more powerful? It may be related to the better optimization in the Qualcomm chip, especially in low power modes, compared to the one from MediaTek. Is there a demonstration for this? That The difference in rest is huge Instead of comparing autonomy in other situations (calls, multimedia or browsing).
Which should you buy between Redmi Note 12 Pro 5G and POCO X5 Pro 5G? It depends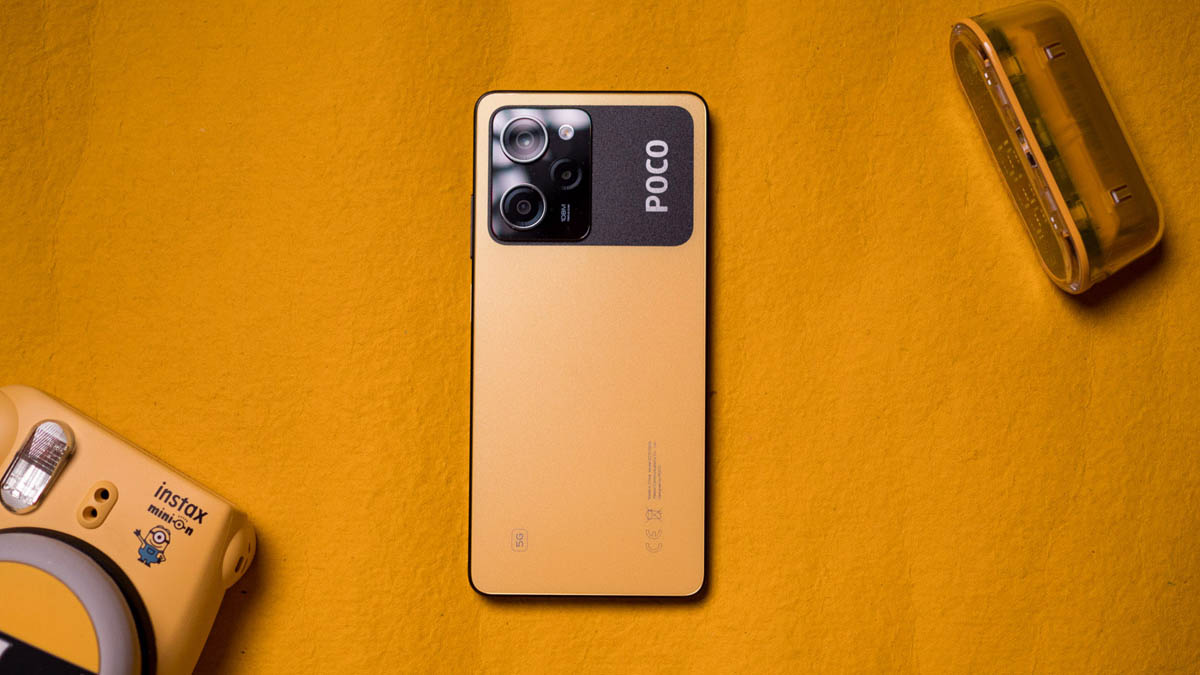 Now that we have gone through all the essentials of this pair of phones, it remains to decide which one is better. If you read everything, you will agree that they are very similar to each other except for a few things. These are the details that tell you where to go, although we'll provide an explanation at the end.
If what you want is a mobile game that you can play without having to deposit a lot of money, Then POCO X5 Pro 5G should be your choice.. Performance is superior, in addition to having better autonomy.
On the other hand, if you're more into taking photos; Then you should choose Redmi Note 12 Pro 5G. In addition to optical image stabilization, the main camera is better than its rival in terms of quality.
Now, the last explanation related to the price is gone. Initially, these two devices had very similar prices, but now the Redmi Note 13 has been introduced in China, all 12 series have been reduced in price. how much is it? So you can get the Redmi Note 12 Pro 5G 8GB + 256GB on Amazon for just 265 euros.
Meanwhile, the POCO X5 Pro 5G might be available in the same configuration for €296 if you're lucky. The most common thing is to see about 329 eurosas the replacement has not yet arrived and the price has dropped a bit.
With this price difference at the time of writing, the Redmi Note 12 Pro 5G will be a more attractive option regardless of POCO's power. So now you know, if there is still a big difference when you read this article, go for the Redmi Note 12 Pro 5G.