On this website, we have analyzed several chargers from the Baseus brand, one of the most popular in this sector. However, so far the Baseus PowerCombo Tower 65W has been analyzed as more than a charger, a smart charging station designed to safely power your devices and protect the items in your home.
It is much better than the usual fast charger and we will take a closer look to tell you why. We'll tell you all it can do and if it's worth adding to your collection. Let's go there!
The 65W Baseus PowerCombo Tower charges 5 devices simultaneously safely and intelligently.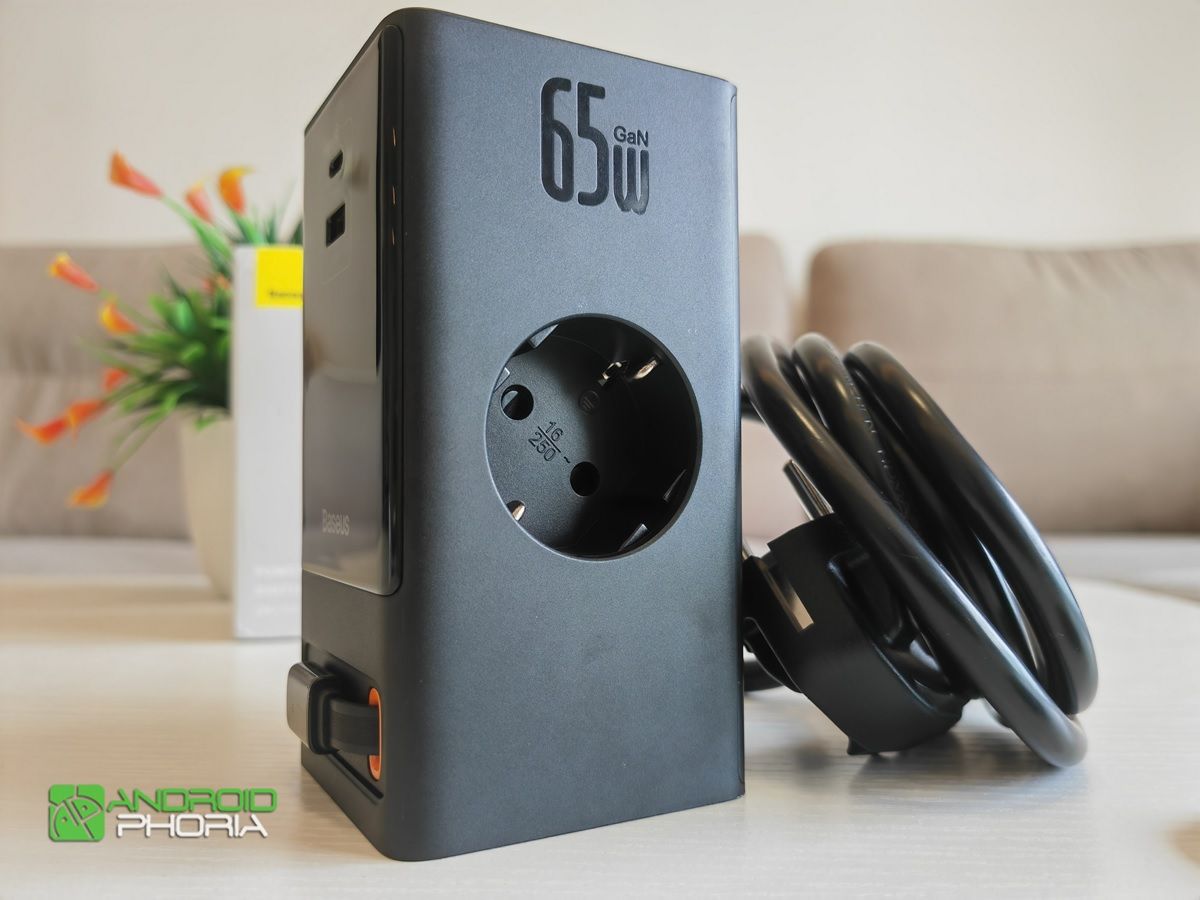 The 65W Baseus PowerCombo Tower is a fast charger with three USB outputs and two AC outlets. Its two USB outputs are type C and one is type A. We call it a "smart charging station" because it has many safety and efficiency functions integrated into it that operate automatically or you can control it yourself using the Baseus app. Mobile phones.
Before we get into the details, we leave the technical paper for you to consult the specifications whenever you want.
Features
Baseus PowerCombo 65W Tower Charger
Dimensions and weight 11.3 x 6.6 x 6.6 cm. 512 grams. Total output power 65W Individual output power USB C port: 65W max.USB port: 60W max.Returnable USB-C cable: 65W max. Input power 200 V – 250 V, 50/60 Hz, 1.5A max. Supported protocols USB C1/C2: PD 3.0, PD 2.0, PPS and Quick Charge 4+(QC4+).USB A1/A2: QC 3.0, QC 2.0, SCP, FCP, AFC, Apple 2.4, BC 1.2 and PE+. Protection against over voltage, under voltage, overload, overload, electrostatic, automatic disconnection, overheating, short circuit and shock. GAAN technologies, air switch, digital security, automatic shutdown and inactive device detection. Compatibility Android phones, iPhone, laptops, iPad, MacBook, headphones, Nintendo Switch and more. Control via the Baseus app, available for Android and iOS.
What does the Baseus PowerCombo Tower 65W charging station look like?
The 65W Baseus PowerCombo Tower is available in black and white and has a rectangular tower design as the name suggests. Its length is 11.3 cm in height and 6.6 cm in width and length, so it will never get sick.
It's much larger than a similar power fast charger, so we don't recommend it as a travel charger, but rather as a charger to have on your desk. By the way, the body is a strong and durable plastic that is resistant to heat (withstands up to 750 ºC in the GWIT test method).
The front has a glossy black cover where the two USB ports are located. Although one of them is USB-C and the other is USB-A, both offer fast charging. This cable can reach a maximum of 80 centimeters and is magnetically attached to the body of the station to secure the system during assembly.
All details of the Baseus PowerCombo Torre 65W charging station
It is worth noting that the 65W Baseus PowerCombo Tower Station does not include any additional cables in the box, so the fact that it has an integrated cable is good news. You can use the super fast charge without having to buy extra cables, though you'll still need the ports to use other cables.
At the top, there is a button to turn the charging station on and off. This button is surrounded by a blue LED ring that visually tells you the status of the site.
On the other hand, through this charging station you will find two type C power outlets that are used in Spain and most European countries. These outlets are basically an extension of the outlet, so you can plug any device into them that plugs into a regular outlet. The advantage of these outlets is that they provide superior electrical protection for your devices, and in addition, you can control it from the app.
Of course, the 65W Baseus PowerCombo Tower has a built-in power cord to connect it to power. This cable is 1.5 meters long, enough to place the station where you want.
How does the Baseus PowerCombo Tower 65W charging station work?
Both the dock's USB-C port and the expandable USB-C cable provide a maximum output power of 65W when used independently (when no other cables are connected). And the maximum output power of the USB-A port only reaches 60W.
When using two ports simultaneously, power is distributed at 45W for USB-C output and 18W for USB-A output, or 45W for reversible USB-C output and 20W for USB-C. Output USB-C port. Here's an image that better explains the site's load distribution when using multiple ports: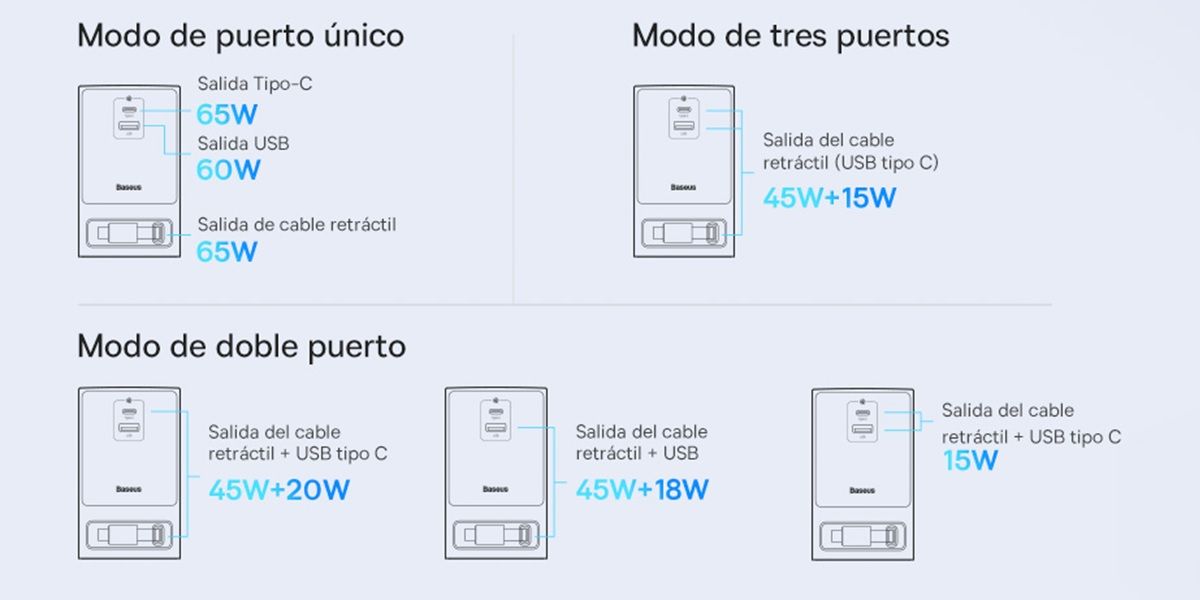 It has the capacity to fully charge laptops, mobile phones and other portable devices. How fast it can charge your devices:
MacBook Pro: 45% charge in 30 minutes (100% in 90 minutes). Galaxy S22: 60% charge in 30 minutes. iPhone 14: 54% charge in 30 minutes. iPad Pro: 35% with 30 minutes of charging.
It is compatible with fast charging technologies from Apple and Samsung devices, as well as laptops from major brands on the market and consoles such as Steam Deck, ASUS ROG Ally and Nintendo Switch.
But the most interesting thing about this charging station is the protection system. And we are talking not only about the many integrated protections against all kinds of electrical failures, but also about its advanced functions such as remote control, shutdown timer and capacity calculation through the app. In addition, it has functions such as identifying the inactive device and automatic shutdown to save energy and vampire loads.
Is the Baseus PowerCombo Tower 65W charging station worth it?
The 65W Baseus PowerCombo Tower is an excellent charging station for those looking for a reliable and efficient way to charge their devices. It has many built-in protections, smart power-saving features, and is compatible with a variety of devices.
A mobile app to control some of its functions is a very useful addition that other similar chargers don't offer. Plus, we think a retractable USB-C cable is a great idea that will greatly speed up the process of charging your device and keep your desk organized. expenses 87,83 euros in black and 93.99 euros in white. Is it worth it? of course.
the best
The worst
The charging USB-C cable is very practical, the application has safety and energy-saving functions, enough power to charge laptops, it is convenient for travel, it does not include additional cables.