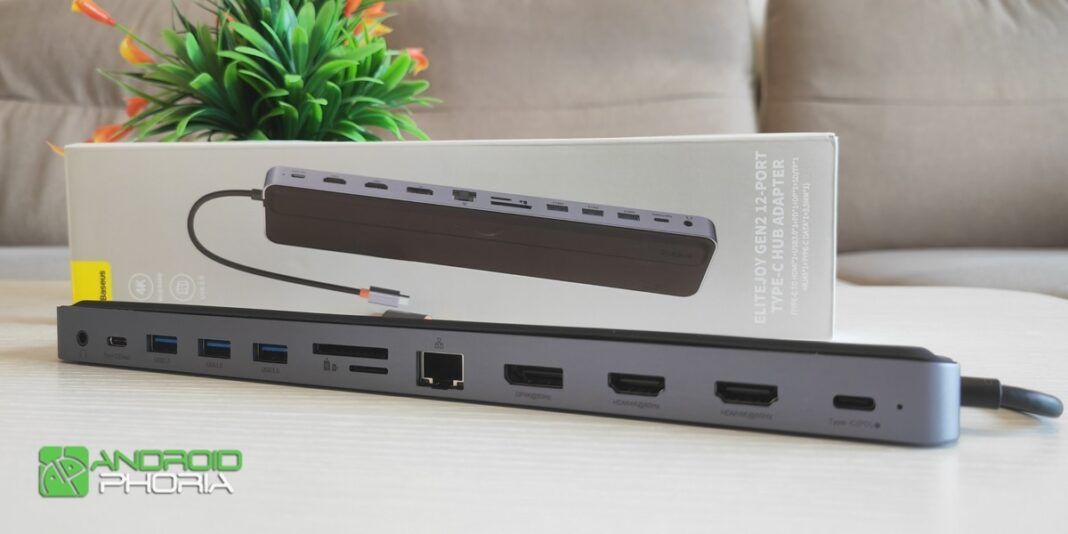 The Baseus DockStation 12 in 1 Laptop Docking Station is the perfect solution if you want to quickly and easily connect all your peripherals to your laptop. With a wide range of ports including DisplayPort, HDMI, USB-C, USB-A, Ethernet, and an SD and microSD card reader, the 12-in-1 DockStation is a must-have for your laptop.
We've already got this docking station and we can assure you that it's the best cost-effective gadget to boost your laptop's productivity and connectivity. Below we'll explain in detail why we're excited about the Baseus DockStation 12 in 1.
Baseus DockStation 12 in 1 sits under your laptop and multiplies the ports.
The Baseus DockStation 12 in 1 is a docking station, dock or hub that connects to your laptop's USB-C port to add a total of 12 new connections. It's specifically designed to sit under your laptop and integrate the new ports perfectly. Check out the technical paper for all the details:
Features
Baseus DockStation 12 en 1 para portátiles
Manufacturing Material: Aluminum alloy body and soft silicone surface. Dimensions and weight 28.5 x 5.7 x 1.9 cm. 256 grams. USB-C cable output capable of transmitting video and audio signals and supporting 100W PD fast charging protocol 2 x HDMI (4K at 60 Hz max) 1 x DisplayPort 1.4 (4K at 60 Hz max…) 3 x USB-A 3.0 (500 1 x USB-C 3.0 data (5 Gbps). 1 x USB-C charging (100W PD). 1 x SD card reader (104 MB/s). 1 x microSD card reader (104 1 x RJ45 Ethernet (1000 Mbps) 1 x 3.5 mm jack (1000 Mbps). Steam Surface Compatibility, MacBook Pro (M2 and M1) 2023/2021/2020/2019/2018/2017/2016, MacBook Air (M2 and M1) 2022/2020/2019/2018, iPad Pro 3~6 Air 4~5, iPad Mini 6, Surface Pro 8 / Surface Pro 7 / Surface Pro X / Surface Go 2 / Surface Go / Surface Book 2 / Surface Book 3 / Surface Laptop 3 DELL 5000, Inspiron 7000 HP Specter 13 / Spectre, S8+, S9, S9+ , S10, S10+, S20, S20+, S20 Ultra, S21, S21+, S21 Ultra, S22, S22+, S22 Ultra, Note9, Note10, Note10+, Note20, Note 20 Ultra, A70 , Mate20 Pro, Mate20 P50 Pro, P50 E, HONOR 50, 50 Pro, 60, 60 Pro OnePlus 8, 8 Pro, 8T Pro, 9, 9 Pro, 9R, 9RT, 10 Pro, Nord, etc. Compatible OS Windows, Apple OS, Linux, Android and Vista.
It is made of metal and has a silicone coating
Baseus DockStation 12 in 1 works perfectly with any device that supports USB-C data input and output (including mobile phones, tablets and consoles), but has an extended design designed for laptops. Its length is just under 30 centimeters, which makes it too big for anything but a laptop.
It has an aluminum alloy case and metal ports fixed on the body. None of the inputs feel flimsy, the USB-C cable is of good quality and the top has a non-slip silicone surface so you can place your laptop on it without scratching or moving it.
In addition, the bottom of the station has a pair of wheels that prevent it from slipping. Overall, we find it to be a fairly premium product for its connectivity options and build quality.
All details of the Baseus DockingStation 12 in 1
Overall, the Baseus DockStation 12 in 1 allows you to add a total of 12 new ports to your laptop: two USB-C (one for charging only and one for data), three USB-A, one display port, two HDMI, two card readers (one SD and one micro SD), Ethernet input and 3.5mm audio input.
What can you do with Baseus DockStation 12 in 1?
If you don't know how to use this site, here is a list of what you can do with Baseus DockStation 12 in 1 ports laptops.
HDMI: Allows you to connect an external monitor, projector or TV to your laptop with up to 4K resolution and a high refresh rate of 60 Hz. DisplayPort 1.4: Allows you to connect a high-resolution external display (up to 4K at 60 Hz). to your laptop. USB-A 3.0: Allows connection of all types of USB devices such as keyboards, mice, controllers, microphones, external hard drives and USB flash drives. These ports support data transfer speeds of up to 500 Mbps. USB-C 3.0 Data: Through this port you can connect USB-C devices such as keyboard, mouse, external hard drive, flash drive, etc. It supports speeds up to 5 Gbps. USB-C Charging: This port is only used to charge your laptop. Supports up to 100W power SD card reader: You can insert SD and microSD cards into these slots to expand your laptop storage or transfer files (such as photos, documents, music, etc.). RJ45 Ethernet: Allows you to connect your laptop to a wired network for faster download speeds up to 1 gigabit speeds, more stability and lower latency (important for online gaming). 3.5 mm jack: In this entry you can connect headphones, speakers or microphones with a 3.5 mm connector.
As you can see, through these ports you can connect different devices to your laptop and create a more productive and efficient work environment.
Is the Baseus DockStation 12 in 1 the right hub for your laptop?
Baseus DockStation 12 in 1 is a USB-C docking station that adds 12 ports to your device. It has an elongated design to place your laptop on it and has a superior build quality.
Connect up to 3 monitors to your laptop at 4K/60 FPS, use wired internet up to 1 Gbps, connect wired headphones and microphones, plug in multiple peripherals, and even expand storage with SD cards.
In short, it's the most complete and best-designed docking station you can find for your laptop. The official price is €109.99, although it usually retails for under €100. It's worth it at that price.