ALLPOWERS is a brand we know very well because we have already reviewed many of their products and even reviewed their ALLPOWERS R600 charging station. Their specialty is solar power generators and portable charging stations, but this time they bring a new product that not only revolutionizes the catalog, but represents the portable battery market in general.
This is the ALLPOWERS S200 mini charging station, which aims to be the perfect power bank that's the size of a projector. In addition to charging your devices via USB, this super power bank can power up to 240 watts of AC output for devices and other devices, and if that's not enough, it can be charged with solar panels.
We've been trying hard over the past few days to tell you everything you need to know about it: operation, specifications, performance, etc. Let's go there!
ALLPOWERS S200 charging station: full review in Spanish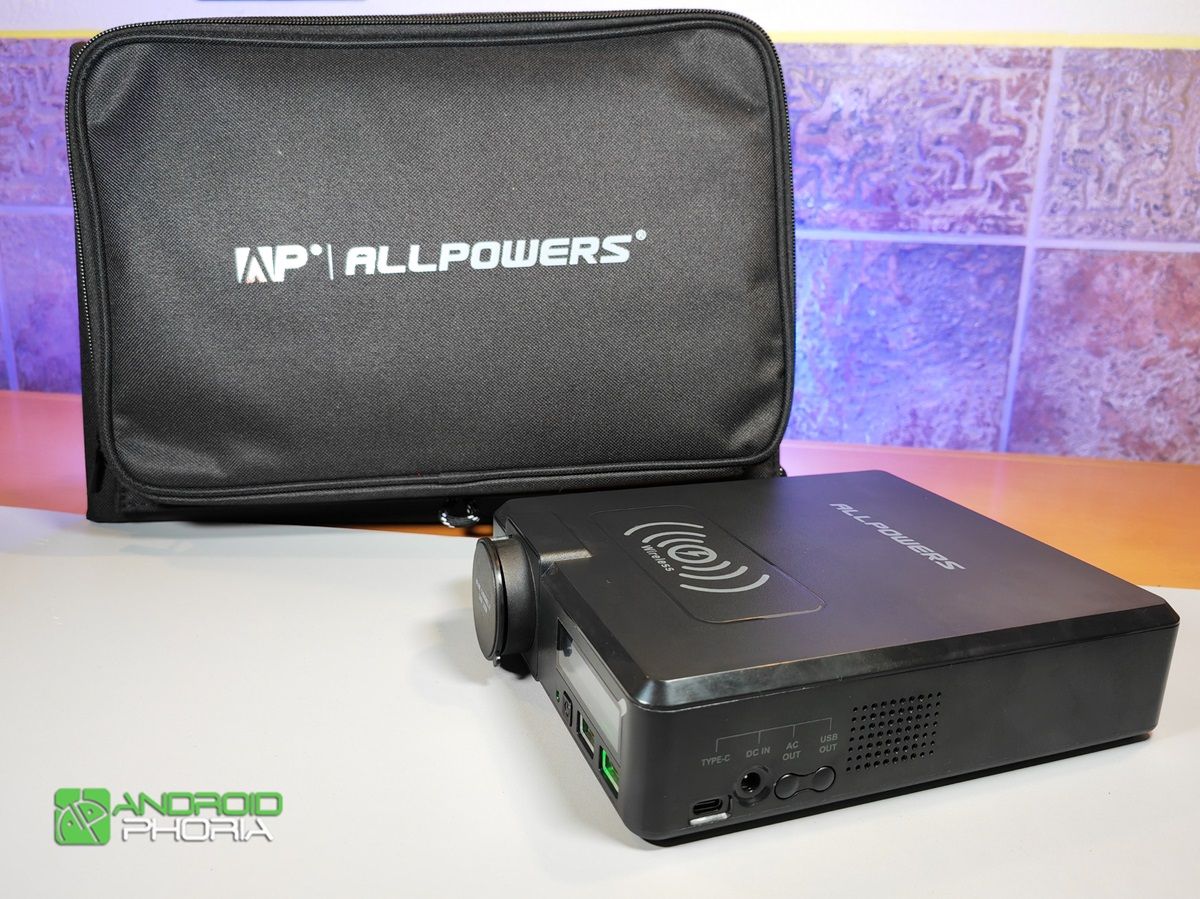 First, let's explain what ALLPOWERS S200 is. It can be described in two ways: as a "super power bank" or as a "miniature charging station". Simply put, it's a portable battery with 5 outputs that can typically be charged with DC and USB-C input, or solar-charged with a panel provided by the manufacturer. Its technical specifications are as follows:
ALPOWERS S200 full technical sheet
Features
Allowance S200
Dimensions and weight 20 x 17 x 5 cm. 1.4 kg. Battery 154 W / 41600 mAh. Lithium three type battery. DC inputs: 18 V ⎓ 2 A. USB-C: 60 W max Solar panel: 99 W max. AC Outputs: 220 V – 240 V, 50 Hz / 60 Hz, 200 W (240 W max) USB-A (x2): 5 V ⎓ 2.4 A (3.0 A max).USB-C: 5V ⎓ 3 A / 9 V ⎓ 3 A / 12 V 3 A / 15 V 3 A / 20 V ⎓ 3 A (60 W max.) Wireless charging: 5 V ⎓ 1 A. 0 to 100% charging in 1.5 hours (via USB-C + AC). Built-in protection against high temperature, low temperature, over discharge, over charge, short circuit and over current. Additional LED screen.
What does the ALLOWERS S200 charging station look like?
As you can see in the pictures, ALLPOWERS S200 looks like a projector, it has a rectangular shape and a big circle on the front. This circuit is nothing more than a rubber cover that protects a standard plug into which you can connect whatever you want.
Next to the main jack is a small backlit LED display that shows the battery's charge level, approximate remaining life, and input and output powers. Below this screen is a small LED light that indicates the operating status, followed by a power button and two USB-A charging ports.
Details of the ALLOWERS S200 powerbank
On the right side of the ALLPOWERS S200 we find a USB-C port that supports both power input and output, the DC input to which the charger included in the box is connected and two buttons to activate the output (one to activate the AC output and another for USB outputs). These buttons are very useful, because they allow you to activate only the effects that are used for the least energy loss.
On the side, we find a small ventilation grid, which is very important to release the heat generated by the power bank when charging devices. On the other hand, it has a "wireless" rectangle on top, as it is a pad that can be charged by wirelessly compatible devices (cell phones, headphones, etc.). And there are only small anti-slip rubber bands at the bottom of the site.
The solar panel is lightweight and can be purchased separately
When you purchase the ALLPOWERS S200, you have the option of including the 60 W SP026 or 100 W SP012 solar panel that goes with this power bank in your purchase. You don't need to buy them, but they are a nice addition. They don't weigh much or take up much space for how powerful they are. For example, SP026 weighs about 1.95 kg and when folded it measures 435 x 360 x 20 mm.
These solar panels come with all the accessories you need for use, including four hooks to hold the brackets upright and fix them somewhere, such as on car windows.
At 60W the panel is more than enough to charge both the ALLPOWERS S200 and the low consumption devices that connect to the power bank ports. It takes 2.5 hours to charge the ALLPOWERS S200 to 100%, which is not bad at all.
It can power up to 5 devices at once and charges 100% in 1.5 hours
Now, let's talk about the performance of ALLPOWERS S200. The first thing to mention is that this power bank has a 41600 mAh or 154 Wh lithium battery (3 or 4 times more than a normal power bank). Charging without a solar panel can be done in three different ways:
With DC input only: takes about 5 hours (using the included charger). Using USB-C port only: takes about 2.5 hours (minimum 60W USB-C charger required). With DC input and USB-C port at the same time: it takes 1.5 hours.
You have five options for charging devices with it: a 200W plug, two USB-A ports up to 15W, a USB-C port up to 60W and a 5W wireless charging pad. At the same time 5 charging options, although in this way the battery ends very quickly (you can monitor the duration on the LED screen in real time).
We were able to use the laptop for over 2 hours with the traditional plug and even a small TV for over 4 hours. Of course, given the 200W limitation of this plug, you cannot connect high consumption devices to the power bank, such as a washing machine, air conditioner or microwave.
And if you are interested, it can charge the mobile phone with a 5000 mAh battery quickly using the USB-C port up to 8 times (the charging speed depends on the protocol supported by the smartphone).
Is the ALLPOWERS S200 charging station worth it?
ALLPOWERS S200 is a super power bank that delivers exceptional performance. With a 41600 mAh battery, it can power up to 5 devices at the same time, including devices with low consumption. In addition, it can be charged quickly (within 1.5 hours) using the two main inputs (DC and USB-C).
But you should keep in mind that the Suko socket has a maximum power of 200W, so you cannot connect high consumption devices to the power bank. Additionally, the solar panel is sold separately and although it is compact, it is not as small as the ALLPOWERS S200.
In short, we're looking at a powerbank that's the best on the market, but it's no match for a traditional charger. It is in the middle point between both products and we like it because it can adapt to different situations and energy needs.
Thanks to Black Friday deals, it's worth it now 79,00 euros (without solar panel) or 199.99 euros (with 60W solar panel) in the brand's official store. And you can get an additional 10% off using the coupon. AND15 And this button: